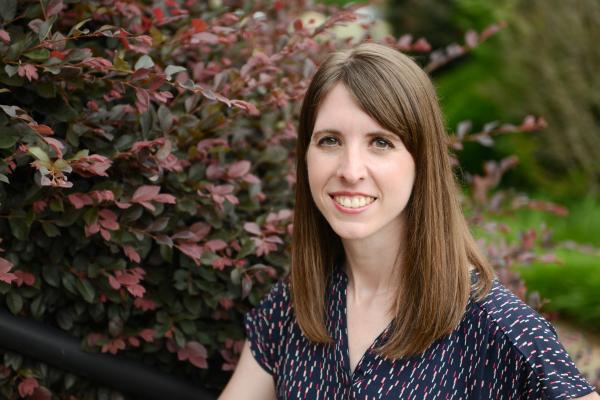 Research on Teacher Perspectives Earns Jordan McNeill the 2020 James J. Gallagher Dissertation Award
Like so many dedicated educators, Jordan McNeill knew from an early age that she wanted to be a teacher.
"My sister is also a teacher. It's in the family," says McNeill, a Greensboro native who was a special education teacher and specialist for children with autism spectrum disorder (ASD) for six years before entering the Applied Developmental Sciences and Special Education program at the UNC School of Education, where she is now a fourth-year doctoral student.
"In middle school, I spent some time shadowing a special education classroom, and I immediately had the heart for it. I knew it is what I would do."
For her dissertation, which examines early-career teacher perspectives about how evidence-based practices for students with ASD are implemented in classrooms, McNeill has been awarded this year's James J. Gallagher Dissertation Award from the UNC Frank Porter Graham Child Development Institute. The award provides a $4,000 stipend for a work-in-progress that is reflective of Gallagher's legacy of advancing policy and practice that supports children and families.
"Because of FPG's autism research, we have a set of verified evidence-based practices that are effective for children and youth with autism in a variety of outcomes and domains, but we're not seeing these things implemented consistently in classrooms," she says. "We call this the 'research-to-practice' gap. For my research, I'm talking to teachers so I can understand where they're coming from and find out if this research is working for them. Do our teachers know about evidence-based practices? Are they getting the training they need? Are these practices feasible to use in everyday teaching with all the other constraints they have on them throughout the day?"
In 2018, McNeill conducted a survey of kindergarten-to-12th grade teachers in North Carolina and found that teachers who had participated in more intensive training were more likely to use evidence-based practices with students with ASD. For her dissertation, she decided to focus on teachers in the first three years of their careers, as they were more likely to have experienced coordinated training in their pre-service programs.
"I'm interested in preparation and perception – how well were teachers prepared and was that preparation useful? Were they self-taught, did they do their own reading, did they attend a multi-day training or learn about these things in their teacher-prep programs? And, how relevant and practical do they think those practices they learned about actually are in schools?"
McNeill began her teaching career in special education in Alamance County as a self-contained classroom teacher and a district-level autism specialist, where she spent six years. She personally received autism-specific coaching and professional development that enabled her to do her job well, and she found so much variety in what other early teachers knew about when it came to serving children with ASD.
"There were so many factors," she says. "Which school, which classroom, where you got your degree, the individual students you taught. I enrolled in a doctoral program wanting to better understand this variation, and over time, I've homed in on how this is one way to use my voice as a teacher to better understand these perspectives and start to get at why we have this gap."
McNeill credits North Carolina's universities for the depth of teacher training she received. For her bachelor's degree, which she earned in 2011, McNeill was a North Carolina Teaching Fellow at Elon University. The Teaching Fellows program is the state's effort to recruit, prepare, and support students as they become highly effective STEM or special education teachers in North Carolina public schools. While teaching, she completed a master's degree at East Carolina University in 2015 to further specialize her knowledge of autism and low incidence disabilities.
"Elon gives you great experiences in the wider world of teaching. I had a very high-quality educational experience in teaching, and that has driven a lot of my interest in understanding the variance I see in schools. I had so many amazing experiences in my undergraduate program – I was in classrooms every single semester, from the beginning. So, I'm very interested in the different types of programs our teachers are coming from and how that influences what people end up doing in their own classrooms."
The selection committee for the Gallagher Award was impressed with McNeill's research design and her interest in the role of teachers in ensuring effective implementation of evidence-based practices.
"Receiving this award is key to furthering my research. It allows me to continue my surveys and interviews, offer monetary incentives to participants, fund a research assistant, and purchase software that would have, otherwise, come right out of my pocket," she says. "But, there's more than that. I can say that I was recognized by a group like FPG, and that comes with everything they're known for. Having the Institute supporting me and attached to my work in this way means so much to my career."