Researchers Partner with Spanish-Immersion Elementary School to Solve Class Participation Mystery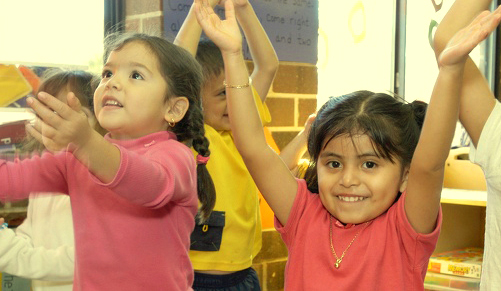 When the principal of a Spanish-immersion elementary school approached the Frank Porter Graham Child Development Institute with a mystery, a groundbreaking new project was born. Researchers Doré R. LaForett and Ximena Franco have been examining how the school's language immersion program affects different students' academic engagement and social networks.
"The principal had noticed something that immediately got our attention," LaForett explained. "She said it seemed to her that students whose home language was Spanish weren't participating in classes—even when teachers primarily taught in Spanish."
According to LaForett, if in fact this were the case, it could contradict theory and expectations about Spanish-speaking learners in immersion classrooms. As a result, LaForett and Franco launched a partnership with the elementary school on the "Social Networks and Academic Engagement in a Bilingual Education" project.
"We followed 340 pre-K to 5th-grade students," explained Franco, who also has served as project director for a multi-site study on the relationship between language exposure and language development of bilingual children. "The school employs a variety of models across classrooms, from a 50-50 English-Spanish mix to 90-10 mostly Spanish instruction, depending on the grade level, track, and subject."
In addition to conducting their own classroom observations, LaForett and Franco gathered data from teachers and children. "We're looking at which students hang out with whom and which students actually are participating in class," said LaForett, who has been involved in several research projects and initiatives focused on young dual-language learners and their families. "We're even asking the students to tell us who they consider to be good students."
In the end, the researchers hope to answer questions about home language, the language of instruction, peer networks, and classroom participation—and how these pieces of the puzzle fit together.
"No one else is doing this," LaForett said.
According to Franco, the mixture of instructional models and grade-levels has made data analysis more time-consuming, but the researchers expect to share preliminary findings with the school in late 2015.
DS