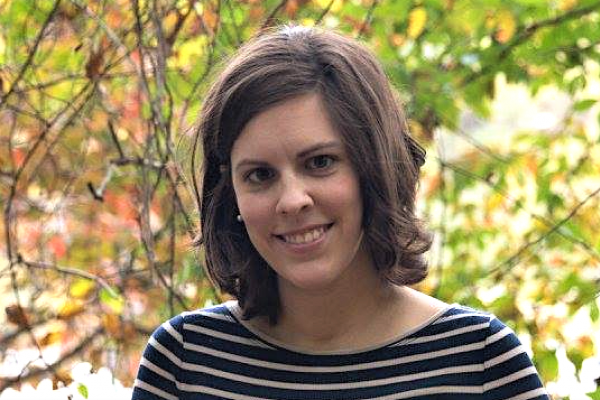 Sarah Pedonti receives 2021 FPG James J. Gallagher Dissertation Award
Named to honor former UNC Frank Porter Graham Child Development Institute (FPG) director Jim Gallagher, the annual James J. Gallagher Dissertation Award provides support for dissertation research at the University of North Carolina at Chapel Hill that focuses on issues related to child development, education, or family support, with research that is relevant to child and family policy for young children, children with disabilities, or children with gifts and talents receiving the highest consideration.
We're pleased to share that Sarah Pedonti, MEd, is the winner of this year's award. Pedonti is currently a graduate research assistant with STEM Innovation for Inclusion in Early Education Center (STEMIE) and works with UNC School of Education's Kathryn Leech at the Early Learning Lab. She recently spoke with us about her research and what impact receiving the James J. Gallagher Dissertation Award will have on it.
What motivates your research?
Prior to returning to graduate school, I taught and worked in inclusive early childhood programs for eight years. The last two of those years were with Migrant and Seasonal Head Start (MSHS) and Early Head Start, which really informed my interest in how federal and state early childhood programs work to provide high-quality supports for young children's language and literacy skills. Through my work, I saw that many of the newcomer or first-generation immigrant Latinx families I worked with in those programs weren't able to equally access early intervention and preschool special education services, and I wanted to understand more about why. I'm particularly motivated to understand how programs implement early screening, identification, and disability services for dual language learners with or at risk for disabilities, and how that might support their emergent language and literacy.
What does the James J. Gallagher Dissertation Award mean to you?
The Gallagher Award will help contribute to an important part of my research design―matching federal administrative Head Start data with cross-sectional survey data of Migrant and Seasonal Head Start Programs, which will hopefully provide insights about what qualities of programs may influence the language and literacy skills of MSHS children with or at risk for disability identification. Aside from the professional significance, it personally means a great deal to me to be recognized by such a prestigious community, and to have my work seen as having policy relevance to improving outcomes for children and families.
What do you hope to learn from your work?
Through my research, we will hopefully be able to understand more about the programmatic qualities of Head Start agencies that are successfully identifying and serving children with disabilities, especially dual language learners with or at risk for disabilities, and how those characteristics relate to children's language and literacy outcomes. The MSHS model is a great model for culturally and linguistically appropriate programming in early childhood education, and I hope that lessons learned from this research can translate into practice for other programs serving large numbers of Latinx immigrant families. I hope that my findings will contribute to our understanding of how distal characteristics of children's learning environment, like professional development for their teachers, or administrative collaborations with other agencies, can influence children's development positively, particularly in communities where Latinx children with disabilities may have traditionally been underserved.
If you'd like to support the James J. Gallagher Dissertation Award Fund, you can do so with a secure gift online.