Senior Scientist Buysse on CEC Panel for New Standards on Evidence-Based Practice
New Standards Define Quality Indicators and Criteria for Evidence-Based Practice
Virginia M. Buysse, senior scientist at FPG and research professor in UNC's School of Education, has served on an integral workgroup that has just released new standards for evidence-based practices (EBPs) in special education.
Five years ago, the Council for Exceptional Children (CEC) established the workgroup, comprised of seven top special education researchers who developed, vetted, and piloted new standards for determining evidence-based practices in special education. The CEC's goal: increased understanding of the effectiveness of a range of practices for learners with disabilities.
"The new CEC Standards for Evidence-Based Practices in Special Education will change the landscape within the special education research community, and their application will be critical to the future success of research in our field," said CEC president Robin D. Brewer.
Bryan Cook, chair of the EBP workgroup, said the group created a single set of standards that reflected the views of the special education research community.
"We hope the new standards will be helpful to the special education research community in classifying the evidence base of instructional practices in special education," Cook added. "And that their application will, in turn, provide a knowledge base that special educators can use to improve the instruction they provide to exceptional children and youth."
Rather than categorizing practices simply as evidence-based or not, the new standards provide more detailed classifications: evidence-based practices, potentially evidence-based practices, having mixed effects, having negative effects, or having insufficient evidence to categorize their effectiveness.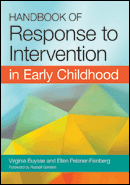 FPG's Buysse brought to the workgroup a range of expertise that includes the Response to Intervention (RTI) Model. Last year, with FPG senior scientist Ellen Peisner-Feinberg, Buysse edited the new Handbook of Response to Intervention in Early Childhood.
The CEC is an international community of educators who are the voice and vision of special and gifted education, and president Brewer expressed his appreciation to all the workgroup members. Joining Cook and Buysse were Janette Klingner, Tim Landrum, Robin McWilliam, Melody Tankersley, and Dave Test.
Read the CEC Standards for Evidence-Based Practices in Special Education.
FPG grants permission to publish this story in part or in its entirety.
DS