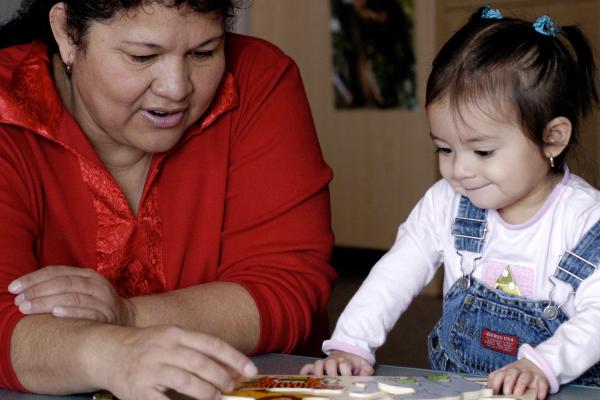 Statement on Separation of Children From Their Parents
The Frank Porter Graham Child Development Institute's mission is "advancing knowledge, enhancing lives." In the spirit of that mission, FPG joins national organizations, including the Society for Research in Child Development (SRCD), the American Psychological Association, the American Academy of Pediatrics (AAP), the American Public Health Association (APHA), the American Educational Research Association (AERA), the American Psychiatric Association, and the National Association of Social Workers (NASW), in rejecting policies that separate families and create harmful conditions for child development.
FPG Research Scientist, Ximena Franco, PhD, is a co-author on the recently released research brief from the SRCD Latino Caucus:The Science is Clear: Separating Families has Long-term Damaging Psychological and Health Consequences for Children, Families, and Communities. This document summarizes the research evidence on the harm caused by family separations and has direct implications for understanding the far-reaching impact of the current zero-tolerance immigration policies and practices targeting families at the southern U.S. border. Dr. Franco states, "While U.S. immigration has halted the practice of separating families at the border, it remains unclear if or when reunification will occur for families separated prior to implementation of the new policy."
Exposure to severe or ongoing trauma, such as being separated from one's parents and placed in an unfamiliar environment, may have long lasting effects on the lives of children, families, and communities. Such trauma experiences can create "toxic stress" for children, which interferes with the development of brain circuits that are critical for emotional attachment and decision making, and creates challenges in children's abilities to learn, to establish positive relationships with adults and peers, and to regulate their emotions and behavior. Harming children's development through policies that create such conditions is unacceptable.
Speaking out against policies and practices that compromise children's and families' well-being is our ethical obligation as research scientists, technical assistance and professional development providers, and implementation scientists. Children and families emigrating to or living in the United States – regardless of their nationality and legal status – are not exempt from humane treatment. FPG is committed to promoting social justice and racial equity for children and families, as demonstrated by our work and the long-term support of our Race, Culture, and Ethnicity (RACE) Committee. We must continue to use our voices and expertise to promote equitable and just programs, policies, and practices.
SRCD Research Brief
The Science Is Clear: Separating Families Has Long-Term Damaging Psychological and Health Consequences for Children, Families, and Communities