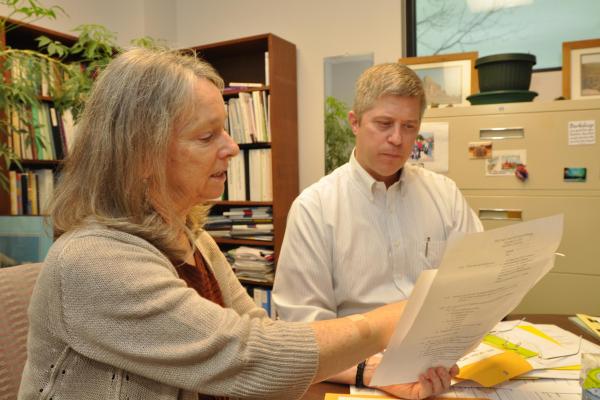 Trohanis Technical Assistance Projects' Co-Director Lynne Kahn Retires
FPG fellow Barbara H. Wasik has kindly served as acting director of FPG during the Spring 2015 semester, while Samuel L. Odom is on research leave. She compiled the following tribute to mark the retirement of Lynne Kahn, co-director of FPG's Trohanis Technical Assistance Projects (named after TA pioneer Pat Trohanis). For the past three decades, Lynne Kahn (shown here, with FPG's Neil Batson) has been an integral contributor to TA projects at FPG, including key leadership roles with the National Early Childhood Technical Assistance Center (NECTAC), the Early Childhood Technical Assistance Center (the ECTA Center), and several other projects.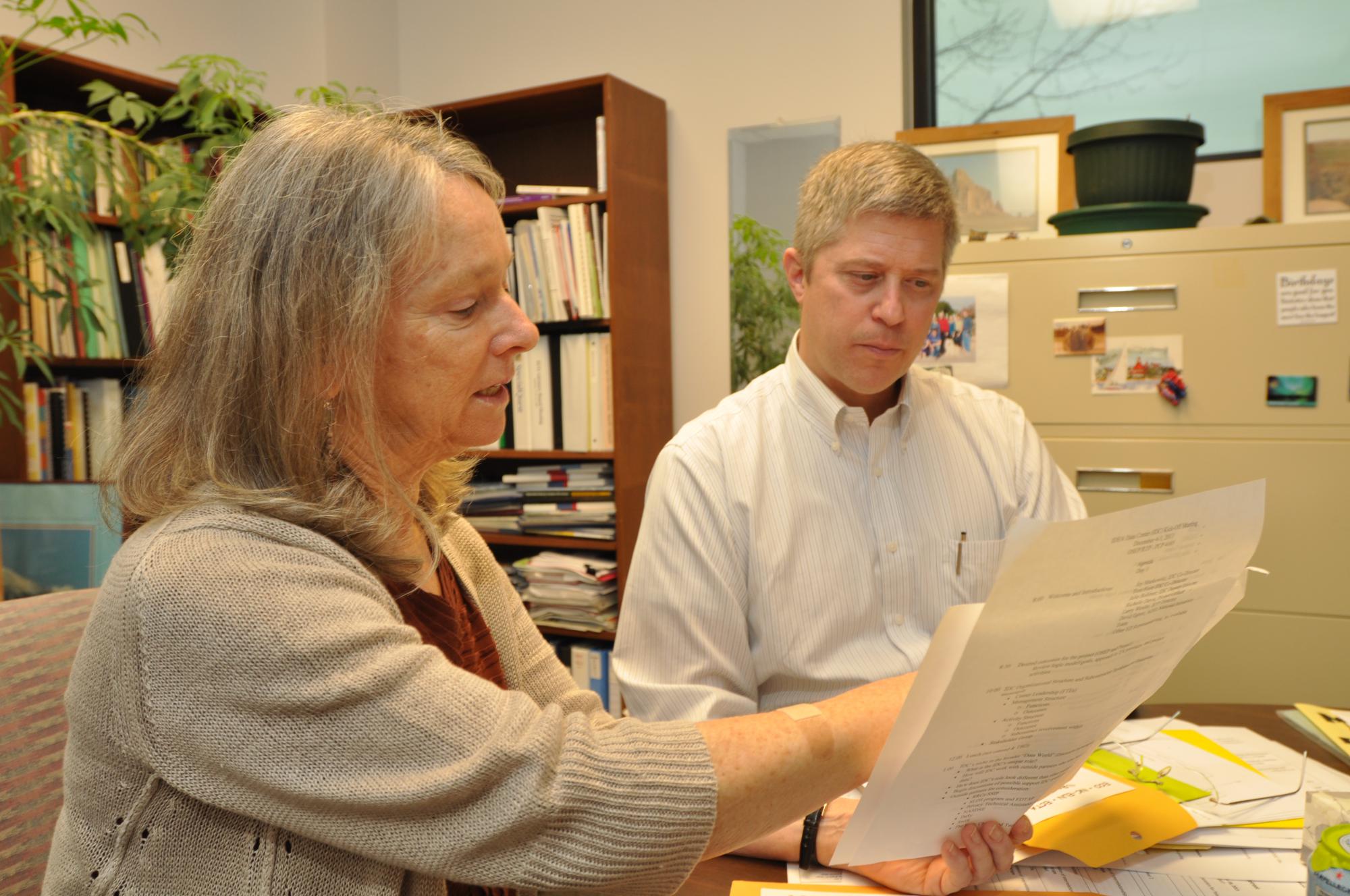 While Sam Odom is on leave, I have the pleasure of recognizing Dr. Lynne Kahn on the occasion of her retirement at the end of February after a long and illustrious career at FPG. She has been a part of our organization for 30 years, serving children with disabilities and their families at the local, state, and national levels with distinction and dedication.
She is much admired by colleagues both here at FPG and nationally. Some of our FPG colleagues who have worked most closely with Lynne have captured for us what it has meant to work with her.
Betsy Ayankoya, associate director (technical assistance), ECTA Center:
"Lynne has taught us so much about collaboration! She has been a positive influence on our work with other organizations and projects on behalf of all young children. Her idea for 'co-staffing' with national centers stretched us in so many ways and helped us to learn new content and function in different contexts. We'd like to think that we're both stronger and wiser because of her leadership!"
Joan Danaher, associate director (information resources), ECTA Center:
"When Pat Trohanis died in 2007, at the urging of her colleagues, Lynne stepped up to lead NECTAC, to prepare us to compete successfully for the ECTA Center, and to grow the Trohanis TA Projects group at FPG. Lynne possessed the expertise to meet the demands of her new role from her many years of experience in evaluating technical assistance and program outcomes and in designing an approach to TA for state systems improvement. She laid the foundation for our current work in developing and implementing a state system framework; implementing evidence-based practices; and, improving data and outcomes for young children with disabilities and their families. Her collaboration with funders and peer TA projects has benefited, and will continue to benefit, the programs we serve directly as well as other early childhood programs that interface with early intervention and early childhood special education. She has been committed to nurturing and mentoring the next generation of TA leaders and leaves us in good stead."
Robin Rooney, principal investigator, North Carolina Early Learning Network:
"I'd like to acknowledge Lynne's critical role in guiding the creation of our statewide training and TA system for preschool in NC: the Early Learning Network. With her help we've gotten the Network up and running—on high speed—in less than two years. Could never have accomplished that without her!"
Christina Kasprzak, co-director, Trohanis Technical Assistance Projects:
"Lynne has been a national leader in the field of TA to Part C and Section 619 systems, leading many of the OSEP-funded TA projects at FPG, including NECTAC, the ECTA Center, the Early Childhood Outcomes (ECO) Center, the Center for IDEA Early Childhood Data Systems (DaSy), and the IDEA Data Center (IDC). She is passionate about what it means to provide high quality TA—helping people do whatever it is they're trying to do more efficiently and more effectively. For over 30 years, she has been responding to the needs of early intervention and preschool special education programs in order to help them improve their systems, services, and ultimately the outcomes for young children with disabilities and their families. On a more personal level, I will say that she is incredibly smart and supportive and cares very much about those she works with."
Though Lynne is formally retiring, she is not ending her involvement in all professional activities, but I do wish her time in this next chapter of her life to enjoy other things she has not had time for during the past years. Thank you, Lynne, for your professional contributions both inside and beyond FPG.
Sincerely yours,
Barbara H. Wasik
Fellow and Acting Director, Frank Porter Graham Child Development Institute
William R. Kenan Jr. Professor, UNC's School of Education
More on Lynne Kahn's pioneering commitment to technical assistance
The latest on TA at FPG: the ECTA Center's new System Framework