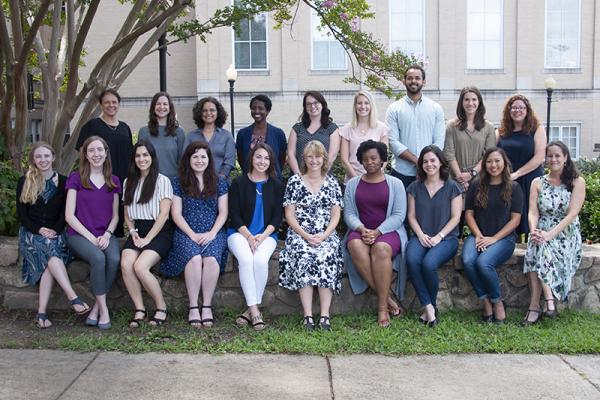 Welcoming Our 2019-2020 Predoctoral and Postdoctoral Trainees
The UNC Frank Porter Graham Child Development Institute recently welcomed new predoctoral and postdoctoral trainees through the Carolina Consortium on Human Development (CCHD) T32 training program funded by the National Institute of Child Health and Human Development. The program provides individualized training in developmental science, research apprenticeships for postdoctoral trainees, professional development, training opportunities at international professional conferences, and inter-institutional trainings and seminars at consortium institutions.
The consortium is a multidisciplinary group of developmental scientists who have academic appointments at The University of North Carolina at Chapel Hill, Duke University, North Carolina State University, and University of North Carolina at Greensboro.
CCHD trainees are mentored by consortium faculty with expertise in anthropology, behavioral genetics, behavioral neurobiology, clinical psychology, developmental psychobiology, developmental psychology, education, epidemiology, experimental psychology, internal medicine, nursing, pediatrics, psychiatry, public health, and sociology.
"We are enjoying this year's cohort of predoctoral and postdoctoral trainees, they are an excellent group of scholars," said Institute Director Ayse Belger, PhD.
Current CCHD Trainees
Postdoctoral Trainees: Natasha Duell, Kamilah Legette, Leigha MacNeill, Michelle Martin Romero, Allegra Midgette, and Leah Richmond-Rakerd
Predoctoral Trainees: Caroline Chandler, Keita Christophe, Kathy Do, Melissa Grimes, Raeylin Loisell, Laura Machlin, Caitlyn Owens, Mara Rhodenizer, and Paula Yust
---
FPG also welcomed back the second-year cohort of an Institute of Education Sciences postdoctoral training program in special education and autism research. FPG provides fellows with extensive research training in special education with a focus on the knowledge and skills needed to evaluate the efficacy of interventions and instructional practices for students with autism spectrum disorder.
These postdoctoral fellows spend half of their time working on IES-funded research projects at FPG and half of their time working on their own research. This funded fellowship includes a self-assessment, where fellows identify their strengths/areas for additional support across the two-year program, the development of an Individualized Fellowship Plan, and the scaling of goals through the Goal Attainment Scaling process. Fellows have opportunities for partnerships with related organizations (e.g., Organization for Autism Research), are provided with advanced trainings related to methodology, and are supported through monthly meetings and mentoring. "This rigorous process ensures our fellows engage in learning that is directly relevant to their career goals, involves active participation in research in authentic settings, and are well supported," says Kara Hume, PhD, facilitator of the IES training program.
Current IES Fellows
Postdoctoral Fellows: Nancy McIntyre and Sallie Nowell