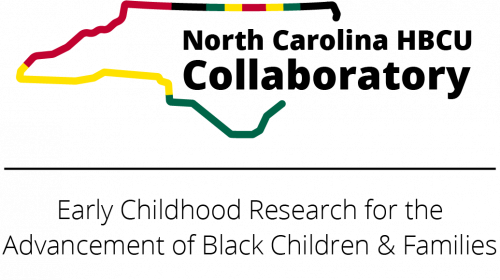 The UNC Frank Porter Graham Child Development Institute (FPG), North Carolina Central University (NCCU), North Carolina A&T State University, and Bennett College have created a collaborative partnership aimed at conducting research and implementing programming focused on improving health, educational, and equitable outcomes for Black children and their families, while also sharing resources and connecting HBCU faculty and students with collaborators and mentors across disciplines and across North Carolina's HBCUs and UNC FPG.
What is the purpose?
Building on the strengths of North Carolina's HBCUs and FPG, the Collaboratory aims to facilitate research partnerships across institutions and be a forum for the development and implementation of programming that enhances teaching, outreach, training, and practice in social behavioral and economic (SBE) fields impacting the lives of Black children and families. With an initial focus on addressing disparities related to the educational experiences of young Black children (birth through age eight), the Collaboratory will leverage the diverse perspectives, expertise, resources, and disciplinary approaches available across partner institutions to develop a culturally sustaining, asset-based portfolio of evidence-based interventions addressing the disparities impacting Black children's educational outcomes, health, and wellness and empowering Black families to support their own children as they interact with educational and healthcare systems.
Why is this needed?
Research has demonstrated that barriers, such as the use of harsh disciplinary practices, inadequate instruction, and less responsive teacher-student interactions, have negatively impacted the educational outcomes for Black children. These systemic barriers have resulted in inequities that significantly impact the experiences of Black children and increase the  long-standing opportunity and achievement gap between white and Black children. This North Carolina-wide research partnership brings together HBCUs and other university institutions to ensure that the best minds who study and understand the inequities and cultural assets of Black children and their communities are centered. We're working together to address these disparities.
The potential for NC HBCU/UNC-FPG Collaboratory research and programming to have lasting, transformative impacts on Black children's educational outcomes, health, wellness, and social-emotional well-being is predicated on building the SBE research capacity of NC HBCUs and the capacity of predominently white institutions (PWIs) to work through an asset-based promotive way. The North Carolina Collaboratory will approach capacity-building on three synergistic fronts:
developing a collaborative infrastructure and community across NC HBCUs and PWIs through a shared focus on improving the lives of Black children and families;
promoting NC HBCU faculty development and enhancing career trajectories; and
establishing a pipeline for NC HBCU students to gain research experience and pursue careers in SBE fields.
The Collaboratory has submitted joint/collaborative proposals to fund development of an infrastructure to build a sustainable partnership that has the power to transform the lives of Black children living within North Carolina, and their families, for many years to come.
Bennett College
Sara Wrenn, PhD*, Associate Professor of Psychology & Faculty Lead, Division of Arts & Sciences
* indicates founding member
Elizabeth City State University
Natasha Spellman, EdD, Associate Professor, School of Education
Livingstone College
Tarsha Reid, PhD, Dean, Division of Education, Psychology, and Social Work
North Carolina A & T State University
Ramine Alexander, PhD, Associate Professor, Family and Consumer Sciences
Jennifer Mendoza Beasley, PhD*, Assistant Professor Child Development, Early Education & Family Studies, Family and Consumer Sciences
Valerie Jarvis McMillan, PhD*, Associate Professor & Program Coordinator, Child Development, Early Education & Family Studies, Family and Consumer Sciences
Maylee Vazquez, PhD, Assistant Professor, College of Education, School Counseling
* indicates founding member
North Carolina Central University
Wykeshia Glass, PhD, Associate Professor of Early Childhood Education
Jonathan Livingston, PhD, Assistant Professor, Department of Psychology
Nigel P. Pierce, PhD*, Associate Professor, School of Education
Nina Smith, PhD*, Associate Professor & Program Coordinator, Child Development & Family Relations, Department of Human Sciences
* indicates founding member
Winston Salem State University
Dawn Hicks Tafari, PhD, Associate Professor, School of Education
UNC Frank Porter Graham Child Development Institute (FPG)
Aysenil Belger, PhD*, Faculty Fellow, FPG, Professor UNC Department of Psychology,
UNC Department of Psychiatry
Penelope Chirolde, Clinical Research Assistant, FPG EDI Office
Iheoma Iruka, PhD*, Founding Director, FPG's Equity Research Action Coalition, Research Professor, Public Policy
Jenille Adams Morgan, MA*, Research Associate FPG's Equity Research Action Coalition
Megan Vinh, PhD*, Co-Director Early Childhood TA Center, Director STEM Innovation for Inclusion in Early Education
* indicates founding member