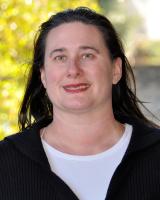 Christine D. Wagner
Technology Support Analyst
Sheryl-Mar North, Room 231
Campus Box 8040
Chapel Hill, NC 27599-8040
Education
Graphic Design with a concentration in Illustration,
Washington University in St. Louis
Biographical Statement
Christine Wagner, BFA, is a Tech Support Analyst for the Trohanis TA Projects. She specializes as a designer creating and producing online learning modules, as well as web and print materials, for the Early Childhood TA (ECTA) Center, the North Carolina Early Learning Network, and the DEC RP Modules project. She has also worked on modules for the EC and EI programs in Washington, Delaware, and Minnesota, and was the Website Manager for the ECO Center.
Christine holds a BFA from Washington University in St. Louis. She has been working creatively, combining her design skills and love of art with a technical savvy, for over 25 years.