Cross-Cultural Variations in the Development of Gratitude
from "Developing Gratitude in Children and Adolescents"
2018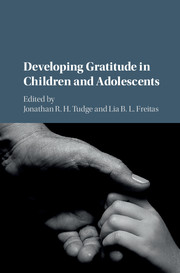 About Developing Gratitude in Children and Adolescents (from the publisher): "In popular opinion, gratitude means saying 'thank you'. While politeness and appreciation are certainly important, gratitude is a larger issue. Appropriately defined, it encompasses the strengthening of human relationships and qualifies as a moral virtue. This important and timely volume provides the conceptual framework for studying the development of gratitude, with a comprehensive and international set of authors approaching the topic from philosophical, psychological, and educational perspectives. The first section provides the theoretical underpinnings for the study of gratitude as a virtue. In the next section, the authors examine the ways in which gratitude develops, including key cross-cultural variations and some possible effects of its development. The final section then considers the links between parent and child gratitude and the ways in which parents and teachers can help to encourage gratitude, both in their everyday practices and by using literary texts..."
Citation:
Payir, A., Mendonça, S. E., Liang, Y., Mokrova, I. L., Palhares, F., & Zeytinoglu, S. (2018). Cross-cultural variations in the development of gratitude. In J. Tudge & L. Freitas (Eds.), Developing gratitude in children and adolescents (pp. 111-134). Cambridge, UK: Cambridge University Press.