Faculty Finds: November 2017
2017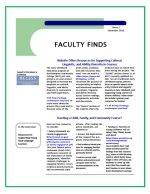 November 2017
Faculty Finds is distributed six times per year. All issues focus on content resources, instructional resources, and information about effective preparation of early childhood professionals. All resources are free.
In this issue:
Supporting Young Children and Families Who Are Racially, Ethnically, and Culturally Diverse; Supporting Culturally, Linguistically, and Ability Diverse Young Children who are Learning More than One Language and their Families; Supporting Young Learners of Diverse Abilities in Inclusive Learning Opportunities... and more.
All or part of Faculty Finds may be freely shared or copied.
Available here:
November 2017 Faculty Finds.pdf
Citation:
Catlett, C. (2017, November). Faculty finds, November 2017. Chapel Hill: The University of North Carolina, Frank Porter Graham Child Development Institute.