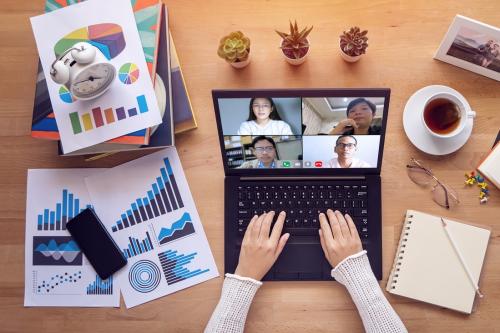 The Data Management and Analysis Core (DMAC) provides services to support interdisciplinary child development research. Services include support for proposal development, specific aims, study design, sampling, participant recruitment, data management, and statistical analysis for projects ranging from small pilot studies to secondary data analysis, longitudinal cohorts, and large-scale multi-site cluster randomized controlled trials. DMAC currently supports more than 20 projects and has served as a data coordinating center, data management hub, and methodologic support for projects at FPG, UNC, and other universities for more than 30 years.
To learn more about or services or to engage our services, please email: FPGdata@unc.edu
DMAC Services
Click on the + symbols below to learn more about the services we offer.
New Project and Proposals
Study methods consultation
Study design consultation
Proposal development, writing, and refinement
Full critical proposal review
Study Design
We provide study design services for a variety of study types, including: longitudinal, cross-sectional, nested cohort study designs, randomized controlled trials, cluster randomized controlled trials, secondary data analysis plans, nested cohort studies, and bio-behavioral approaches (e.g., two-stage studies, case cohort, case control studies).
Our study design services include:
Formulating aims and hypotheses
Writing and editing analysis plans
Sample selection methods
Power and sample size calculations
Protocol development
Randomization strategies
Electronic Data Collection
Electronic informed consent capture
In-person data collection (via Blaise, REDCap) of assessments, interviews, biomarkers data, etc. with built-in scripts, validation, adaptive sequencing, and data integrity monitoring tools
Web-survey (via custom system, Qualtrics, REDCap) including automated mailings and incentive distribution
Cleaning, double entry, and reconciliation of paper-based data collection
Study Tracking
Participant and study activity tracking from recruitment through closure
Basic: support setting up tracking in Excel or Access database
Complex: custom interactive web-based systems that integrate participant information, study activity tracking, data files received, reporting, and alerts
Data Management
Database development
Data cleaning, error checking and reconciliation, and field staff
Harmonization of variables across time points, versions, and variable changes
Scoring standardized assessment instruments
Validation
Data conversion/formatting (e.g., NDAR/ECHO)
Cohort building
Data linkage (i.e., building secondary datasets from multiple/varied sources)
Auditing data/variables (i.e., quality assurance)
Data Analysis
Descriptive data
Simple GIS analysis
SEM
Cluster randomized controlled analysis
Hierarchical linear regression
Time-to-event analysis (survival analysis)
Marginal structural models
Longitudinal data analysis
Missing data assessment and methods
Population/sampling weights
Inverse probability weights
Intent to treat analyses (ITT)
Treatment on the treated (ToT)
Data Sharing, Visualization, and Dissemination
Secure data sharing and receiving, coordinating across sites, de-identification of data, and uploading to registries
Preparation of figures, tables, and graphic representations for presentations and publications
Writing methods, results, and discussion sections of reports and manuscripts
Interactive website for data visualization
In 2021, DMAC partnered with the Department of Epidemiology at the UNC Gillings School of Global Public Health to coordinate the UNC Gillings COVID-19 Dashboard. The dashboard's goal is to make more resources and data visualizations available for different audiences, including the general public, as well as providing a specific kind of guidance for COVID-19 researchers and policymakers. DMAC Director Sabrina Zadrozny, Eric Savage, Adam Mack, and David Bogojevich all worked on this project.
DMAC Staff
Adam Mack, Applications Analyst
Amber Robb, Workflow Architect
Brianne Tomaszewski, Research Assistant Professor
Dave Gardner, Applications Specialist
David Bogojevich, Research Assistant
Emma Tzioumis, Teaching Assistant Professor
Eric Savage, Applications Analyst
Jim Peak, Applications Specialist
Joy Yin, Applications Specialist Programmer
Keil Jones, Applications Specialist Programmer
Laura Kuhn, Advanced Research Scientist
Sarah Wackerhagen, Research Associate
Steve Magers, Applications Specialist
Tom Leggett, Applications Analyst
Gabrielle Jenkins, Graduate Research Assistant
Kylie Bezdek, Graduate Research Assistant
Tiffany Foster, Graduate Research Assistant