Addressing Urgent Needs
Despite the national attention focused on addressing racial injustices—which are especially pressing for Black children and families—no discernible improvement in Black children's and other minoritized children's health, well-being, and educational outcomes has been made in recent decades. There is an urgent need for a collaborative, consortium, or network of experts who will use strengths-based data to shed light on the impact of historical and contemporary racism and inequities, and the differential impacts of programs, practices, and policies. Iheoma U. Iruka, PhD, aims to address this need through the newly established Equity Research Action Coalition at the UNC Frank Porter Graham Child Development Institute.
Our Goals
The overarching goal of the Equity Research Action Coalition is to establish an interdisciplinary, multi-organization, action-oriented, research-policy coalition. The Coalition will:
Create
Create a national repository for research, programs, and policies found to strengthen the health and well-being of Black, Indigenous, and other children of color and their families and communities.
Examine
Systematically examine the wholistic experiences of Black, Indigenous, and other children of color and their families from prenatally through adolescence.
Develop
Develop actionable anti-bias/anti-racist policies and practices to eradicate the impact of racism and all its consequences on the lives of Black, Indigenous, and other children of color and their families.
Support
Support the development of diverse junior scholars, practitioners, and policymakers interested in Black, Indigenous, and other children of color's early experiences.
"Don't Look Away: Embracing Anti-Bias Classrooms" leads early childhood professionals to explore and address issues of bias, equity, low expectations, and family engagement to ensure culturally responsive experiences. This book offers strategies, tools, and information to help create a culturally responsive and equitable learning environment.
The purpose of the Black Infant and Toddler Equity Project, as part of the Equity Research Action Coalition, is to identify strengths-based programs and policies that support the well-being of Black parents and their infants and toddlers during the COVID-19 pandemic.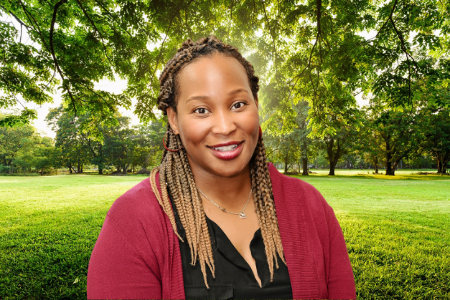 Iheoma Iruka, PhD, is founding director of the Equity Research Action Coalition at FPG and research professor in the Department of Public Policy at UNC. She is engaged in projects and initiatives focused on how evidence-informed policies, systems, and practices in early education can support the optimal development and experiences of children from low-income and ethnic minority households, such as through family engagement and support, quality rating and improvement systems, and early care and education systems and programs.