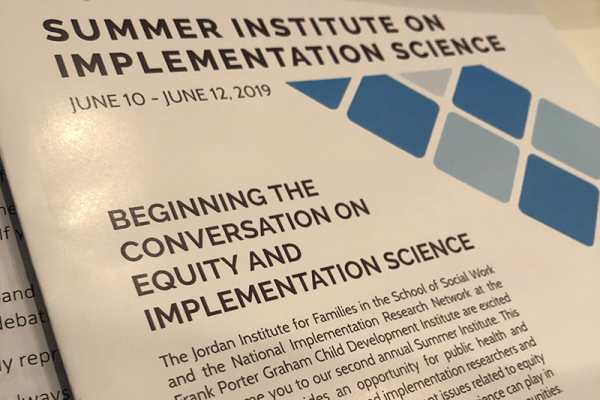 2019 UNC Summer Institute on Implementation Science Focuses on Equitable Implementation
The second annual UNC Summer Institute on Implementation Science took place from June 10-12 and featured an impressive panel of experts from across the globe who gathered to tackle important issues related to supporting equitable implementation and outcomes for people and communities. This year's Institute provided an opportunity for social workers, public health professionals, and implementation scientists to share practical tools and resources that public agency and non-profit professionals can use to support change efforts to advance equity and social justice.
Pre-Institute workshops provided space for training and critical conversations to take place. Sessions included foundational training in equity, frameworks for supporting implementation, competencies for implementation specialists, and foundational training on equitable implementation research and practice. Presenters included professionals from the National Implementation Research Network (NIRN), JustPartners, and the Center for Effective Services in Ireland.
The Institute began with remarks from Provost Robert Blouin, UNC Frank Porter Graham Child Development Institute Director Ayse Belger, and UNC School of Social Work Dean Gary Bowen, who all emphasized the need for amplifying equity in implementation research and practice in order to achieve equitable outcomes.
Plenary sessions provided expert insights from Leopoldo Cabassa, Paul Elam, Alexandra Citrin, Lisa Saldana, and Byron Powell. Cabassa discussed the importance of developing evidence with communities, while Elam described ways to assess whether our implementation practice is culturally responsive. Citrin used a case example to demonstrate how policy implementation can advance equity. Saldana and Powell presented about the possibilities and pitfalls of stakeholder engagement. Saldana emphasized the need for partnerships that are approached from a place of equality, rather than hierarchy, in order to create stakeholder engagement in identifying needs, customizing processes, and achieving the best outcomes. Ultimately, "implementation should make the right thing to do the easy thing to do," said Powell, as he described this work.
Breakout sessions supported critical conversations on a range of topics such as building trust, data visualization, and community-defined evidence.
"This was by far the best institute I have attended. The great respect that the institute had for all individuals who shared their comments, the caring and safe place for discussions. The excellent facilitators and presentations." - Anonymous Participant
"UNC is in a unique position to be a leader in advancing strategies that researchers and practitioners can use toward equitable implementation, and that can work in partnership with communities to address disparities," said FPG Implementation Division Lead and NIRN Director, Allison Metz. This Institute was designed to allow people the space to learn and grow. The result was a diverse representation of policy makers, researchers, practitioners, and community partners who were able to have authentic dialogue, knowing that we all have more to learn and do going forward to advance equity.
Presentations, tools, and handouts that were shared during the Institute have been uploaded to the NIRN website to provide public access. These materials will be added to the Jordan Institute website as well. The goal is to continue to amplify this topic through building on this suite of resources over time, developing blog posts around this subject, drafting a call to action for the field, and convening again in Seattle at the Society for Implementation Research Collaboration conference to continue this conversation. "It is our hope that we've begun the process of creating a community around this topic of equity in implementation science who will commit to equitable implementation as our practice model," said Metz.
The Institute was co-hosted by the National Implementation Research Network (NIRN) at the UNC Frank Porter Graham Child Development Institute and the Jordan Institute for Families at UNC School of Social Work. The UNC Gillings School of Global Public Health and UNC School of Education co-sponsored this event. Generous support for the Institute was provided by The Annie E. Casey Foundation.