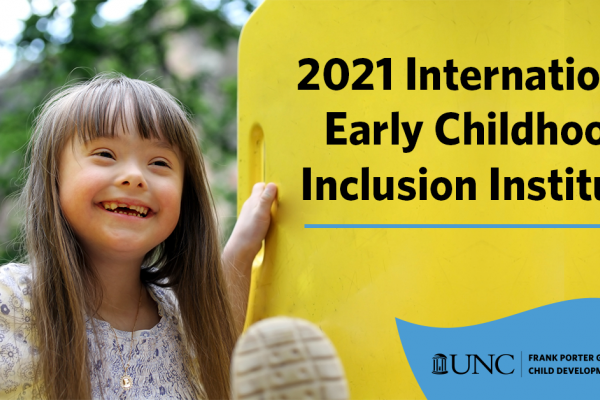 2021 International Early Childhood Inclusion Institute welcomed more than 700 attendees
More than 700 early childhood professionals and families from across the country and throughout the world attended the 21st annual International Early Childhood Inclusion Institute, held online from October 25 - 28, 2021. Presented by the UNC Frank Porter Graham Child Development Institute (FPG), the Inclusion Institute offered tools and resources for families and practitioners involved in the care and education of young children with special needs in inclusive settings. This year's theme, "Forging Equitable Opportunities from Crisis," highlighted the silver linings in the challenges presented by the pandemic.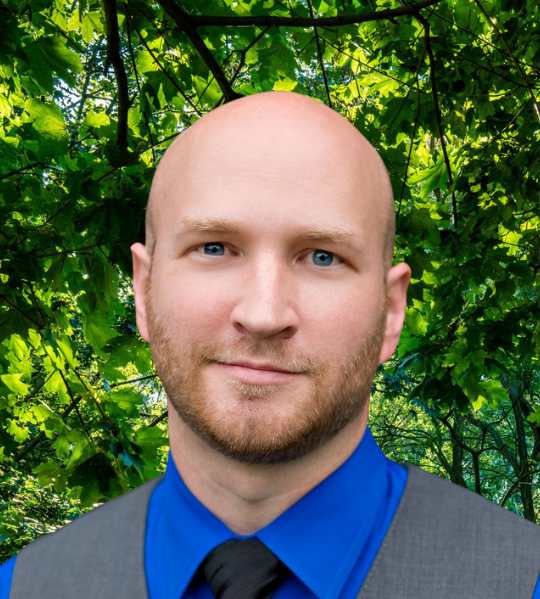 One of those upsides has been forging new ways of communicating, including holding a virtual event. While the conference has been presented annually for more than two decades, this year it transitioned from a national to an international event, with multiple sessions featuring international perspectives on inclusion, as well as a broad range of participants and presenters from across the globe. Day one's "International Implementation of Collaborative Consultation to Children's Classrooms" panel featured experts from Australia, New Zealand, Spain, and the United States discussing similarities and differences in the ways collaborative consultation is implemented in each of their countries.
Adam Holland, PhD, (pictured left) who co-chaired the event with Catasha Williams, MEd, says that the cross-cultural perspective offered valuable insights to attendees. "One of the big takeaways for attendees was how challenges are similar in systems across the world but the approaches to solving them are embedded in different cultures," he says. "The ways we solve and approach problems is different and we were able to learn from one another."
The federal plenary panel included presenters from the U.S. Department of Education's Office of Special Education Programs and Rehabilitative Services and Office of Elementary and Secondary Education as well as the U.S. Department of Health and Human Services' Office of Head Start and Office of Child Care. Each panelist shared updates highlighting collaborative efforts and both proposed and existing legislation that informs the field. This systems perspective enables leaders in the field to better understand federal policy and find support from government officials.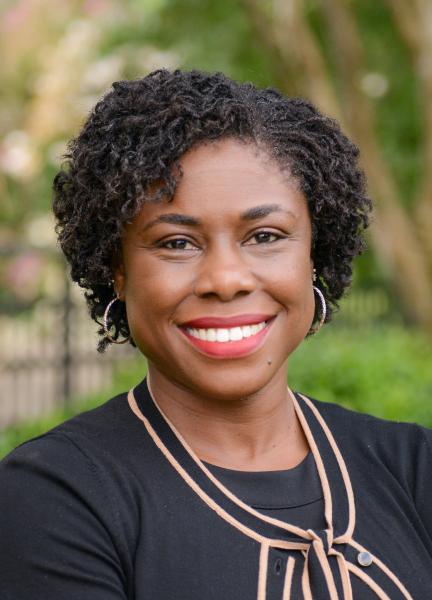 Institute planners also expanded the event's focus on families, with the intention of not only supporting families to help their child navigate through inclusion, but helping families become leaders in the field. With a session devoted to offering families tools to help them advocate and work collaboratively with their child's individualized education program team as well as opportunities for families to meet with one another to advocate for their children and for inclusion, the conference ensured that family needs were centered. "Family partnership is a critical element to ensuring inclusion in early childhood settings," said Williams (pictured right), "and we will continue to expand the event's focus on families in the future by offering sessions highlighting the importance of relationship building, preserving and affirming cultural identities, and the role of families as change agents."
At the same time, the conference planners remained mindful of their audience of practitioners, policy makers, and TA providers by offering sessions offering tools and models on the cutting edge of best practices in inclusion. Session covered topics such as prioritizing relationships to scaffold pandemic recovery for both adults and children, using children's books to promote inclusion, and cross-sector collaboration to support inclusion in subsidized child care. Three of the four sessions on the final day examined equity, an issue of critical importance to the conference planners.
In his opening remarks, Holland offered his view of inclusion as a process, not as a goal. "The process of inclusion is connected to equity because we can only achieve equity when everyone is included," he says. "Children with disabilities have multiple intersectionalities so we had multiple concurrent sessions focused on racial equity, the overlap between disability and race, and how we are going to be able to overcome some of the obstacles that we're seeing in the field right now. The conference was designed so that we could discuss how we all work together to make sure that inclusion is a process that we're constantly pushing through and toward so that we can eventually get to that goal of equitable participation."
Positive feedback from participants showed that they appreciated the simplified design of the days and the ability to attend live sessions. Attendees who had schedule conflicts also had the option of watching recordings of each session. More than 90 percent of the feedback was in the very good to excellent range, in response to questions such as the overall quality of the conference and the relevance of the information to the attendees' work.
Looking ahead to next year, Holland and Williams expect to offer a hybrid conference, with some sessions presented in person and others virtually, to continue to serve an expanded international audience. In addition, sessions will be offered on more advanced topics such as implementation and solving challenges faced by practitioners.
"It's very difficult to work day in and day out in something like inclusion, where there are so many obstacles around truly including all children," says Holland. "This event provides a place where people who believe in inclusion can come together and work to move this forward.
Presenters and participants move out from the conference with renewed energy, purpose, skills, and tools and those things combined help us move the field forward."