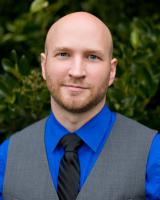 Adam L. Holland
Technical Assistance Specialist
Sheryl-Mar North, Room 209
Campus Box 8040
Chapel Hill, NC 27599-8040
Education
University of North Carolina at Chapel Hill
Early Childhood Intervention and Family Support,
University of North Carolina at Chapel Hill
Biographical Statement
Adam Holland, PhD, is a technical assistance specialist at Frank Porter Graham Child Development Institute (FPG) at The University of North Carolina at Chapel Hill. His research interests include motivation in early childhood, promoting cognitive development in young children, equity, and understanding the effects of classroom processes on children's social and emotional competence.
Adam is a co-author of the EduSnap (formerly Snapshot) Professional Learning System, a data-driven approach to coaching teachers and principals around pedagogy used by states, districts, and research projects around the country. He has also worked for a number of years on the FirstSchool project, which seeks to improve the early school experiences of traditionally under-served populations by providing educator coaching, professional development, and technical assistance to states, districts, and schools.
Adam has been a principal investigator on grants funding the implementation of the FirstSchool approach in Vermont and Minnesota and served to evaluate projects implementing it in North Carolina and Michigan. He also worked on the team creating professional learning content around the Division for Early Childhood (DEC) Recommended Practices Modules and the evaluation team for the Family Success Alliance, a place-based initiative in Orange County, NC. In his role on these projects, he coordinates recruitment; data collection, management, and analysis; and intervention implementation.
Currently, Adam works on the OSEP-funded STEM Innovation for Inclusion in Early Education (STEMIE) Center, the North Carolina Early Learning Network (NC-ELN), and the planning team for the National Early Childhood Inclusion Institute. On these projects, he focuses on ways to improve equity for children with disabilities through their access to high-quality, inclusive learning environments.