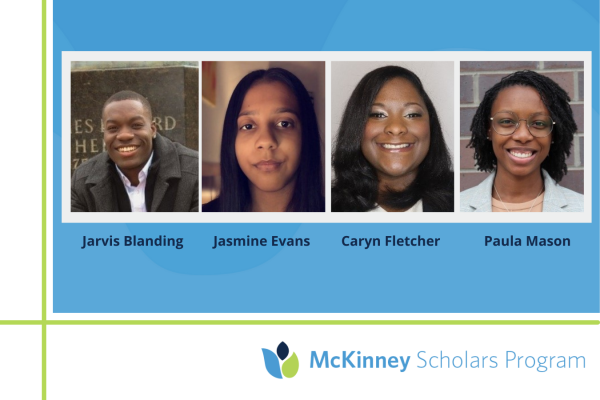 2021 McKinney Scholars reflect on internship experience
As this year's Marvin H. McKinney Scholars Program in Research, Practice, and Policy at the UNC Frank Porter Graham Child Development Institute comes to a close, the 2021 cohort of scholars reflected on their experiences in the internship program.
The McKinney Scholars program is designed to create and support a pipeline for individuals who attend historically Black colleges and universities (HBCUs) and are interested in pursuing careers in child development. This year, FPG welcomed four scholars from North Carolina Central University, Bennett College, and Fayetteville State University.
Paula Mason, a rising senior and elementary education major at North Carolina Central University, said that before the internship program, she thought that being a teacher was the only career path that would be fulfilling for her and allow her to give back to the community.
"Thanks to FPG, I now know if I ever want to make a career change, the possibilities are endless," said Mason. "I have learned to conduct networking interviews, take notes during those interviews, have difficult conversations, and improve my time management."
Jasmine Evans, a rising senior and social work major at Bennett College, said that the McKinney Scholars Program gave her an opportunity to explore new career paths and areas of work.
"Having a chance to talk to the [implementation science] division helped me see that I may have a calling in being a researcher," said Evans.
Her research project exploring self-determination in early childhood helped her discover her love for working with children with disabilities.
Caryn Fletcher, a rising senior and birth-to-kindergarten education major at Fayetteville State University, said that before the McKinney Scholars Program she wanted to pursue a graduate degree and open a childcare center.
"I will walk away from this internship with new career ideas, set school options for graduate school, and also insight on how to connect and educate families," said Fletcher.
Jarvis Blanding, a senior at North Carolina Central University, said that this internship has prepared him with tools for success as he prepares to enter the professional world.
"This experience has been nothing short of amazing," said Blanding. "I thank every single one of the individuals in every department for not only growing with me, but believing in me."
To learn more about this annual program, visit the Marvin H. McKinney Scholars Program in Research, Practice, and Policy landing page.