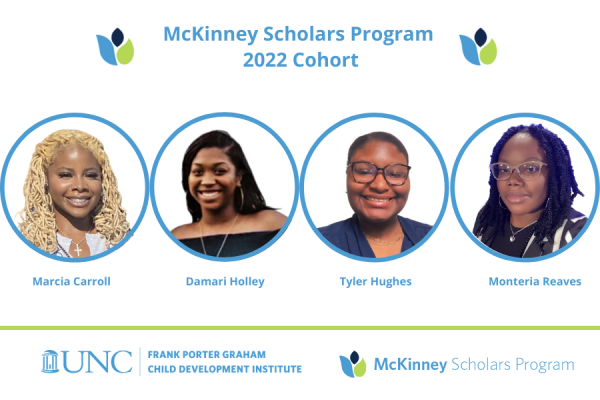 2022 McKinney Scholars reflect on 10-week program
This year, the Marvin H. McKinney Scholars Program in Research, Practice, and Policy at the UNC Frank Porter Graham Child Development Institute welcomed students from Bennett College, Elizabeth City State University, and Winston-Salem State University. Just before the program, which is designed to create and support a pipeline for individuals who attend historically Black colleges and universities (HBCUs) and are interested in pursuing careers in child development, wrapped up its 2022 summer internship, the scholars took time to reflect on their experiences over the last 10 weeks.
Marcia Carroll, a first-generation college student and rising junior studying psychology at Bennett College, shared that she was glad to have had this opportunity for many reasons, but perhaps most especially because she learned how important it is to ask questions. When considering what she would tell students thinking of applying for the McKinney Scholars Program next year, she said, "It was the best experience!" The other students in her cohort agree.
Monteria Reaves, who is also a first-generation college student and rising junior at Bennett College, says the program and her mentors helped her discover more about herself and what she now envisions for her future career path. Reaves said at times it could be difficult figuring out how to balance work and free time, but the experience was well worth meeting those challenges in the long run. "I built professional and personal relationships with the other scholars, my team members, and mentors. They were so genuine and understanding..."
Damari Holley, a rising senior at Elizabeth City State University majoring in social work, says the program taught her many things that support both her professional and personal growth, including how to develop professional relationships, how to adapt to a new working and learning environment, and how to be receptive to constructive criticism.
For future potential MSP scholars, she says this is a great opportunity to learn new skills to carry with you throughout your life. "The most important tips I took away from this experience," says Holley, "are: Don't be afraid to ask questions. Reach out to your support team when you need help. Be organized. And, don't procrastinate."
Tyler Hughes, a rising senior and psychology major at Winston-Salem State University, found the experience enlightening. She was excited to learn more about the field of early childhood education through her project work as well as in her interactions with experienced professionals. "I have a better understanding of what they do," says Hughes, "and whether it would be something I would be interested in doing."
While she faced a few small new challenges along the way, such as keeping track of meetings and assignments, she honed her time management skills as the program progressed. For future participants in the program, she says, "I would tell them to be prepared to learn a lot."
To learn more about this annual program, visit the Marvin H. McKinney Scholars Program in Research, Practice, and Policy landing page.