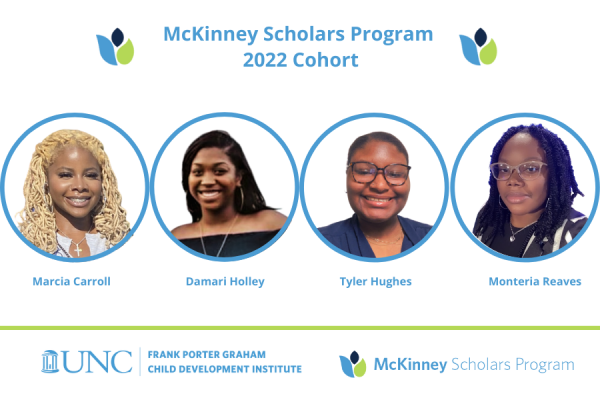 FPG welcomes third cohort of Marvin H. McKinney Scholars
The UNC Frank Porter Graham Child Development Institute (FPG) is proud to welcome its third cohort of interns to work with FPG for the Marvin H. McKinney Scholars Program in Research, Practice, and Policy. This program was established to offer hands-on research experience in child development to undergraduate students from North Carolina's historically Black colleges and universities (HBCUs).
The program honors Marvin H. McKinney, PhD, a former postdoctoral fellow at FPG, longtime educator and collaborator, and current member of FPG's Executive Leadership Board.
Reflecting FPG's strategic plan's values, which include promotion of diversity, inclusion, and equity, the program provides select students with a 10-week paid internship that offers the opportunity to participate in meaningful, project-based work in pursuit of their professional interests and in preparation for their careers.
Meet the 2022 cohort
Marcia Carroll
Marcia Carroll is a first-generation college student and a junior at Bennett College studying Psychology. She hopes to gain more research experience from being a McKinney Scholar, as well as learn about different career paths within the field of psychology. Her interests include working with children with disabilities and developmental psychology.
Carroll will work with Caryn Ward, Yolanda Perkins, and Sophia Farmer on a project focused on sustainable delivery of high-quality middle-grade math curriculum designed to accelerate learning for students experiencing poverty.
Damari Holley
Damari Holley is a rising senior at Elizabeth City State University majoring in social work. As a McKinney Scholar, she hopes to gain exposure and experience in the field as well as a better understanding of the research process. Holley also hopes to improve her writing skills. With a goal of becoming a child psychologist, Holley wants to impact the lives of children affected by mental health challenges and improve the quality of life for their parents.
Holley will work with Heather Aiken and Teresa Taylor assisting in analysis of data collected from a replication grant to evaluate effectiveness of observation and fidelity measures and conduct video analysis to examine teacher/ student and coach/teacher relationships.
Tyler Hughes
Tyler Hughes is a rising senior at Winston-Salem State University majoring in psychology. Her academic interests revolve around understanding how to make schools a more welcoming and safe space for students of color. Her career goals include becoming a school psychologist after getting a graduate degree. As a McKinney Scholar, she hopes to gain insight on the impact that she may be able to have on her community. 
Hughes will work with Sherri Britt Williams and Catasha Williams within the field of early childhood education collecting and reviewing field data, evaluating existing supports with an eye toward improvement, and co-developing content that may be published and/or presented at a regional, state, or national conference.  
Monteria Reaves
Monteria Reaves is a first-generation college student and rising junior at Bennett College majoring in social work with a minor in journalism and media studies. Her career goals include creating her own organization to build positive group homes for children. As a McKinney Scholar, she hopes to gain more experience in research and learn more about careers in early childhood.
Reaves will be working with Noreen Yazejian and Sandra Soliday Hong and other Educare researchers/evaluators from around the country who are focused on early childhood development. In addition to attending monthly community of practice meetings, Reaves will be reading through responses from an open-ended survey question on racial socialization of children birth-5 years old, learning and applying methodology to organize and summarize data, and contributing to a final report.