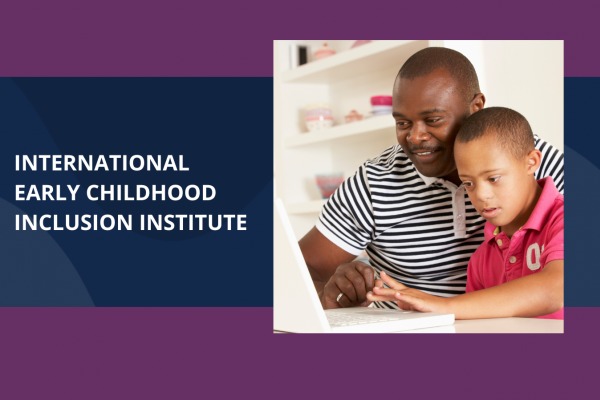 22nd annual International Early Childhood Inclusion Institute serves 500+ attendees
This year marked the 22nd annual International Early Childhood Inclusion Institute, presented on April 26 – 28 by the UNC Frank Porter Graham Child Development Institute (FPG). The event, which was offered in a hybrid format, is designed for individuals working toward inclusion at all levels and in a wide variety of roles. Attendees include classroom teachers and assistants, government officials, family members, faculty, and researchers. More than 275 registrants attended online while 225 people were in person at UNC's Friday Conference Center in Chapel Hill.
 
The theme, "We're in This Together: Caring for One Another in Difficult Times," reflected both the content of the conference and the hybrid manner in which it was presented. The first 19 years of the conference were strictly in person, while for the past two years, it was only offered online. This year, organizers were thoughtful and intentional about combining the best of both worlds to meet the diverse needs of attendees, harnessing the strengths of both the in-person and online formats.
The hybrid model, with its streamed and recorded sessions, offered accessibility to those who could not travel or prefer processing information on their own. Adam Holland, PhD, a research scientist at FPG who co-chairs the Inclusion Institute with FPG TA specialist Catasha Williams, MEd, said that this year's format was greeted positively, signaling the way forward for future Inclusion Institutes.
 
A wide range of sessions provided learnings in a variety of areas. Jackie Joseph, PhD, BCBA-D, executive director of the Rise School of Denver, presented the powerful keynote talk, "Combining Science and Heart: Relearning Inclusion Through Love."  Although Joseph's older daughter Juniper has the rare genetic disorder Cri du chat syndrome as well as autism, Joseph's involvement in inclusion started years before Juniper was born. Juniper helped transition her mom's theoretical understanding of inclusion to a practical application of it. With her unique perspective as both a family member and early childhood professional committed to inclusion, Joseph called on the audience to examine how they practice inclusion in their lives and encouraged them to strive to improve.
 
Joseph invited her listeners to approach inclusion from not just a logical, academic perspective, but to also recognize the emotion and heart involved when advocating for children and looking at inclusion and equity. She shared her hope that community members can recognize that disability is diversity and an identity to be celebrated. Joseph asked practitioners to support each other from the heart, saying that love is the root system from which belonging grows.
 
"My wish is for a future of belonging for Juniper, but even more broadly, my wish is that people without disabilities … get the opportunity to experience a world of belonging for everyone, especially with people with disabilities," said Joseph. "I've seen firsthand that a life of belonging for Juniper and for all kids and people with disabilities is possible. I want a future where every child, person, and family knows that they belong."
 
Joseph's talk was the highest rated keynote in the last five years. Another popular talk was the family plenary delivered by Jenna Ramsey. Like Joseph, Ramsey is both a professional and parent knowledgeable about dealing with differences. Ramsey, a special educator and administrator, talked about the life of her late son, PJ, who was born with significant disabilities. Throughout PJ's life, Ramsey worked to partner effectively with medical teams, school system staff, and community agencies to provide her son with a full, rich life, one of inclusion. Ramsey inspired her audience with her insights on the ways in which these partnerships with teachers, therapists, doctors, and case managers allowed PJ to live well.
Since the conference was designed to help practitioners and caregivers recharge after two difficult years, sessions covered a wide range of topics. Many sessions focused on building effective partnerships or providing professionals with tools to enhance their well-being. "Bouncing Back! Enhancing Your Resilience" offered participants strategies and practical information to support them in their work in a positive, uplifting way.
 
"Get Up and Move" offered participants ways to help children with diverse abilities to engage in movement-based activities. Reflection sessions provided professionals with time to sit back and think about their takeaways from the conference, allowing them to translate the knowledge they gained into actions to take when returning to work.
 
"I'm positive that the things participants took back from this conference left them better prepared to meet all children's needs and that this will result in an increased ability to include those children," said Holland. "Our sessions were inspiring, and they allowed our participants, who have been grappling with a lot of difficulties over the last couple of years, to return to work feeling inspired, refreshed, and knowing that what they do matters."