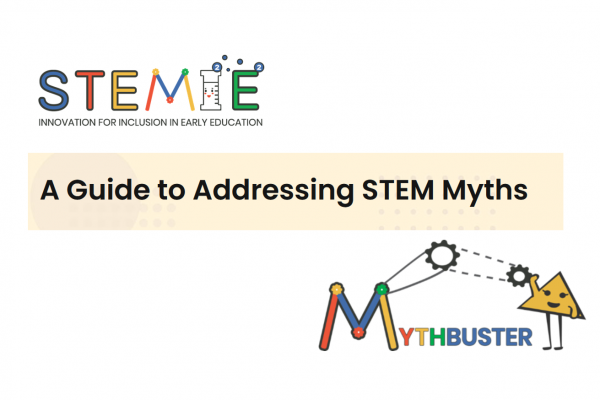 "We believe that all children can learn, participate and have access to a variety of learning opportunities." With that statement, Hsiu-Wen Yang, PhD, shares the central value and belief that inspired her and four of her UNC Frank Porter Graham Child Development Institute (FPG) colleagues—Christine Harradine, PhD, Chih-Ing Lim, PhD, Sarah Pedonti, PhD candidate, and Victoria Waters, MEd—to create A Guide to Addressing STEM Myths. This online publication, which launched in June 2021, addresses and debunks misconceptions about STEM (science, technology, engineering, and mathematics) learning experiences and opportunities for young children, including infants and toddlers and children with disabilities.
"We know that STEM learning is not just for K-12 students but for all children. So, in this guide, we address common misconceptions that affect STEM learning opportunities for young children," says Yang. "The guide—a research-informed document that uses storytelling to get people's attention—describes what early interventionists, early educators, and families can do to champion young children in STEM learning. We hope that after reading it, adults understand the importance of STEM learning for all young children."
Unveiled in 2019, FPG's STEM Innovation for Inclusion in Early Education (STEMIE) Center offers professional development, resources, and STEM activity ideas for young children. STEMIE works to: develop and enhance STEM learning opportunities for young children with disabilities; implement high-quality technical assistance and professional development to increase engagement for young children with disabilities in STEM opportunities; and engage partners and stakeholders from diverse disciplines and industry to increase the inclusion of young children with disabilities in early high-quality STEM learning experiences.
After STEMIE was launched, an FPG team asked 29 early childhood STEM experts about early STEM learning misconceptions they have come across in their work. "We also took a look at prevailing beliefs and attitudes about child development, disability, and learning, all of which affect STEM learning opportunities and experiences for young children," says Victoria Waters, MEd. The guide addressing STEM myths was developed in response to address these issues so that all young children have equitable and inclusive access to STEM learning experiences and opportunities.
Nearly 20 myths are dispelled in the publication, including:
Engineering is a highly specialized skill set and is too difficult for young children to comprehend.
STEM learning is expensive.
Children with disabilities will never have a productive and successful life; they will always need help.
Math is adding and subtracting and/or counting only.
In an easy-to-understand style, the guide offers readers facts to dispel myths and information about how to support STEM learning for all young children. "Infants and toddlers learn through interacting and exploring their environment, which is a great opportunity for STEM learning," says Yang. "During mealtime, caregivers can teach them about the shape of their food, sort the food into different categories, or count the number of blueberries they are eating. There are so many ways to integrate learning opportunities into daily life and give children skills needed in STEM disciplines."
By translating research into accessible information and strategies, the authors of the guide help caregivers, practitioners, and teachers of young children understand the importance of each topic and provide a variety of strategies to use with the young people in their care. Yang and her colleagues hope that the guide inspires more research in the field, "We want this research to inform other practitioners and researchers so that it can be a full cycle of practice and research."
The FPG team disseminates the guide through social media, webinars for faculty and practitioners, and conferences including the now annual STEMIEFest. This year's event, which recently took place online from October 4 – 8, offered five days of free interactive learning and discussion designed for early childhood educators, early intervention providers, practitioners, and anyone else who works with young children and families.
"Webinars covered topics such as supporting STEM learning for infants and toddlers within daily routines and using storybooks to support STEM learning," says Yang. "Some of the 2021 event panelists are people with disabilities who work in STEM-related industries. During the event, they spoke about the importance of starting STEM learning early."