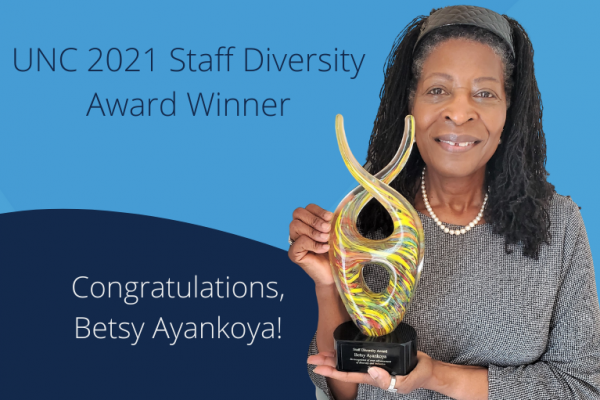 Betsy Ayankoya receives UNC 2021 Staff Diversity Award
Each year, the University of North Carolina at Chapel Hill recognizes people and groups that have given their time and effort to advance diversity, equity, and inclusion at Carolina and in our surrounding community—this work is vital as we build our community together.
Nominations among six categories (undergraduate student, graduate student/professional student/postdoc, staff, faculty, alumni, and intergroup collaboration) are accepted, and two awards are given out for each of the categories.
We're thrilled to announce that FPG's Director of Equity, Diversity, and Inclusion, Betsy Ayankoya, MEd, is the recipient of the UNC 2021 Staff Diversity Award. Ayankoya is also an associate director of the Early Childhood TA (ECTA) Center.
For almost three decades, Ayankoya has been leading programs addressing critical issues around educational inequity, barriers to inclusion, and systemic racism impacting child development. Her work at the Institute is highly impactful, not only on our culture and work environment but also on how we conduct our work.
In her role as the EDI Director, Ayankoya facilitates FPG's Strategic Plan initiatives related to Culture and Belonging in the workplace. In collaboration with staff and mentors, she coordinates the McKinney Scholars Program in Research, Practice, and Policy, a summer internship program at FPG aimed at supporting students from North Carolina HBCUs. Ayankoya supports individual FPG projects and staff in examining practices, policies, and behaviors that support an anti-racist and culturally welcoming environment. She facilitates groups and provides training on welcoming diversity, bias, and prejudice reduction.
Provost Bob Blouin recognized the impact of the Diversity Awards, especially during such difficult times, stating, "While we cannot gather in person to celebrate the University's annual Diversity Awards, it's extremely fitting and important that we honor and acknowledge these teams and individuals as we continue to endure the worst global health crisis in our lifetimes. The pandemic, as well as political tensions and calls for social and racial justice across our nation, continue to present significant challenges. Despite these hurdles, our award recipients have demonstrated in extraordinary ways that their tireless efforts and commitment to diversity, equity, and inclusion are integrally connected to all aspects of the University's strategic plan, Carolina Next: Innovations for Public Good."
You can read the full story about the award and watch Ayankoya's acceptance speech here.
Please join us in congratulating Betsy Ayankoya on this well-deserved honor!