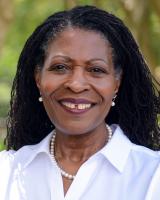 Betsy Clifton Ayankoya
Director of Equity, Diversity, and Inclusion
Senior Technical Assistance Specialist
Sheryl-Mar North, Room 267
Campus Box 8040
Chapel Hill, NC 27599-8040
Education
University of Ibadan, Nigeria
Speech Language Pathology,
University of the District of Columbia
Biographical Statement
Betsy Ayankoya, MEd, currently serves as an associate director of the Early Childhood TA (ECTA) Center and director of equity, diversity, and inclusion for Frank Porter Graham Child Development Institute at The University of North Carolina at Chapel Hill.
In her role as director of equity, diversity, and inclusion, Betsy facilitates the FPG Strategic Plan initiatives related to culture and belonging in the workplace. In collaboration with staff and mentors, she coordinates the McKinney Scholars Program in Research, Practice, and Policy, a summer internship program at FPG aimed at supporting students from North Carolina HBCUs. She supports individual FPG projects and staff in examining practices, policies, and behaviors that support an anti-racist and culturally welcoming environment. She facilitates groups and provides training on welcoming diversity, bias, and prejudice reduction among other topics.
Betsy specializes in the areas of personnel/workforce development, family engagement, and quality assurance. Betsy has worked with states to evaluate their current personnel and general supervision systems, helping them to identify potential areas for improvement and develop more effective and streamlined processes for ensuring positive outcomes for children and families. Betsy has directed several large national early childhood conferences, working with planners, the Office of Special Education Programs, and other stakeholders to develop opportunities for participants to learn from experts in the field, to learn about evidence-based practices, and to share experiences with colleagues.
As part of ECTA, Betsy leads the work related to disseminating the DEC Recommended Practices and the ECTA Center's Practice Improvement Tools, including the aRPy Ambassador Initiative, a collaborative partnership between Division for Early Childhood (DEC) of the Council for Exceptional Children and the Region B Parent Technical Assistance Center at Parent to Parent of Georgia.