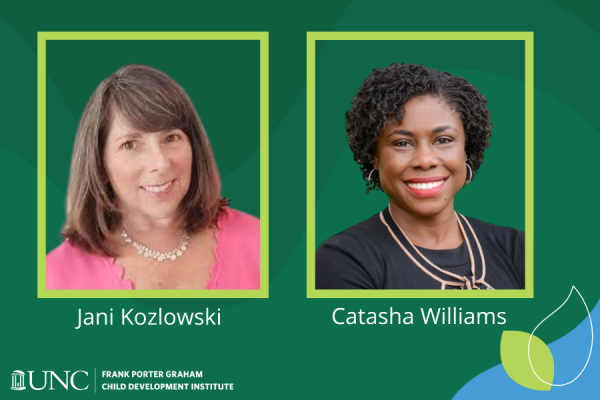 At BUILD annual conference, Kozlowski and Williams to discuss importance of inclusion of young children with disabilities
During its 20th annual conference from July 11 – 13, the BUILD Initiative will host three days of virtual sessions featuring the visionary work of leaders who are building early childhood systems that work toward racial equity and center families and providers. The BUILD conference is the leading gathering in the early childhood world for leaders in state systems, where child care and development fund administrators and Head Start collaboration directors can learn very specific, high-level information.
 
The session "Inclusion of Young Children with Disabilities: A Critical Quality Indicator in Early Childhood Education" will be offered on July 11 by Jani Kozlowski, MA, and Catasha A. Williams, MEd, both of whom are technical assistance specialists with the UNC Frank Porter Graham Child Development Institute (FPG). They will be joined by Ann Kremer, MEd, and Emily Ropars, MS, from Early CHOICES, an inclusion initiative of the Illinois State Board of Education.
The session will offer attendees the opportunity to learn about inclusion research, laws, policy, and practices as well as the disparities that exist in access to inclusive settings based on race and category of disability. Designed with the knowledge that children with and without disabilities, families, and communities thrive in a culture of inclusiveness and belonging, the session will be brought to life through the story of how Illinois and other states are working to foster inclusion through innovative state and community strategies.
 
"Illinois has figured out ways to support children with disabilities within their state systems through quality improvement and professional development systems," says Kozlowski. "We want to help our attendees—who will primarily be state leaders—understand the research around inclusion and then give them ideas on how to strengthen their state's system so that they're more inclusive in support of children with disabilities and their families. We really believe in a systems approach."
 
The presenters will reinforce the fact that inclusion is not just about accessibility or letting children with disabilities in the door. Rather, true inclusion means that children with disabilities are active participants in the program and that educators and families have appropriate supports at all levels—starting in the classroom and extending to the program, community, and state levels. In their session, Kozlowski and Williams ground the presentation in data that shows that over half of the children who receive early childhood special education receive those services in segregated settings. The inequity in services is more profound for Brown and Black children and those with more severe  disabilities.
 
"Even though inclusion is the law and there is so much research that supports inclusion, the data tells us that there's been very little movement in inclusion over decades," says Williams. "We want to highlight not only the need, but then show attendees how they can make sure that their programs are inclusive." One of those ways is through the support of FPG's ECTA Center, which offers technical assistance and resources, including its Indicators of High-Quality Inclusion, to state early intervention and early childhood special education systems.
While the conference session is pre-taped and will be offered synchronously in a virtual format, Kozlowski and Williams will be online to facilitate the chat and promote engagement among attendees.
 
The passion and commitment that Kozlowski and Williams bring to their work is rooted in their own experiences. As a person with a disability, the parent of a child with a disability, the child of a parent with a disability, and an early childhood professional, Kozlowski writes and presents from these different perspectives about understanding disability and knowing that inclusion is powerful.
 
Having experienced in her own life what it means to be included, Kozlowski is passionate about holding high expectations for all children and presenting them with learning opportunities alongside their peers. "The more that we can give people the example of what it's like to live with people who have challenges but succeed in spite of those challenges, the better off we all are," she says.
 
Kozlowski wove personal stories into Every Child Can Fly: An Early Childhood Educator's Guide to Inclusion, the book she published in June 2022. Written to support the professional development efforts of teachers and home visitors working with children with disabilities, the book includes information about inclusion, ranging from creating inclusive learning environments and inclusive teaching practices to fostering social-emotional development and creating culturally and linguistically responsive practices. Kozlowski is currently working on a companion guide for families that is expected to be released next year.
 
Williams's commitment to inclusivity is strengthened by her knowledge of the experience of her mother, Dorothea. Williams's maternal grandmother was told by the school system in her community that Dorothea needed to be institutionalized at a very young age because she was "not fit to learn."
 
"I'm sure my grandmother didn't know anything about inclusion at the time but she was adamant that, 'Y'all have to help me figure this out because I'm not sending her away,'" says Williams. Dorothea not only went on to graduate from high school, she is employed by the central office of the school system that said she was unable to learn.
 
While Williams was an undergrad at East Carolina University, she happened upon a child development lab in which children of many different abilities were learning together. "Everything connected at that moment," she says. "My heart and my passion are forever in this work of ensuring inclusion."
To register for the BUILD conference and attend Williams and Kozlowski's session–which will be presented on July 11 from 1:45 - 2:45 p.m. EDT—visit the conference website.