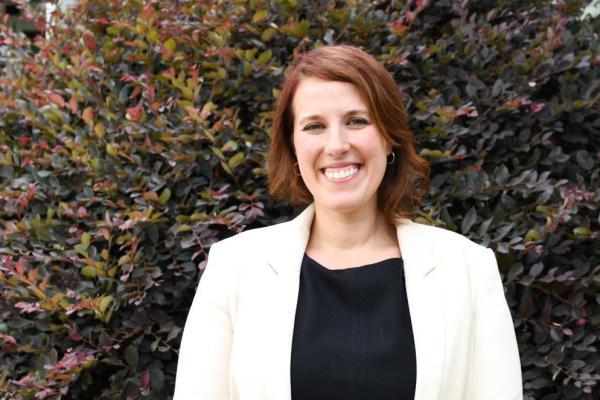 Extending FPG's mission: FPG implementation specialist takes new position as Director of Mental Health
With its commitment to advancing science, UNC Frank Porter Graham Child Development Institute (FPG) is dedicated to impacting and influencing the next generation of researchers. We have done—and continue to do—this by providing summer internship opportunities and postdoctoral training programs. And sometimes we do this in different, but equally impactful ways, such as by being part of someone's professional path—like that of Julie Austen, PhD.
For the past four years, Austen has worked as an implementation specialist at the UNC Frank Porter Graham Child Development Institute (FPG). A clinical health psychologist by training, Austen will soon be returning to her roots as the Director of Mental Health for an integrated community health center in the area where she grew up in, Pittsburgh, PA.
Prior to joining FPG, Austen's path of lived experience, education, clinical practice, and immersion in rural health in Eastern NC led to her seeing the great need to build capacity within NC's service systems. She realized becoming part of the research and implementation science worlds was one way she could help make an impact by working on the kinds of systems-level change and capacity building that advances the quality of life for all children.
"FPG has been an important career change for me. At FPG, I've been a part of something that builds systems and solves problems from multiple levels" says Austen. She and her colleagues ask, and try to answer, essential questions like, 'How do you prevent these things from happening in the first place?' 'How do we implement policies that help from a higher level?' 'How do we improve what we have?' 'How do we put the people we serve first in everything?' "FPG is bringing all these pieces together," said Austen, "in a way that's made me really proud to be part of it."
Austen's departure from FPG is bittersweet—we're excited for her, but we will certainly miss her! She made time this week to chat with us about what's on the horizon at her new job and how her time at FPG will help inform her work going forward.
Tell us a little bit about your new opportunity. What will you be doing, who will you be working with, and why were you drawn to this position? 
I'm so excited about this new and unique role. I'll be the Director of Mental Health for an integrated community health center in the area that I grew up in, Pittsburgh, PA. This clinic cares for people regardless of their ability to pay, and mental health is integrated within the medical and dental clinics so that we have a team approach to supporting community wellness. I'll spend half of my time serving patients across the lifespan and the other half developing and overseeing the expanding program. I'm excited to develop training opportunities and prevention programming for under-served communities.  This role is very special to me because this clinic took care of me when I was a teen. They were the "go-to" clinic for LGBTQ affirming care in Pittsburgh, and my doctor was the first out queer person I had ever met. This role will give me the chance to use the full breadth of my skills as a health and school psychologist. Though I've loved the community feel of FPG and the relationships I've been lucky to have, I'm so excited to pay forward the care and support given to me by working within the clinic whose values inspired me to finish high school and become a clinician. I hope I get to do that for someone else!  
 
What are your goals for your next chapter, and how have your experiences with FPG set you up for success? 
Initially I came to FPG to recover from burnout after working with thousands of patients here in NC; burnout is a common trajectory for providers working within underfunded community health settings. I wanted to learn how to support the clinical workforce through implementation science; to expand and support programs in sustainable ways so that communities can come to trust that those programs will be there for the long haul. Patient trust is the cornerstone of patient care, and patients don't trust new programs because they don't stick around. Here at FPG, I've had the opportunity to contribute to programs that center equity at national, state, community, and program levels, and this has given me an amazing bird's eye view of what makes programs truly sustainable. The secret to success is twofold: effective system coordination across levels, and centering people and relationships with a particular focus on creating and maintaining space for incorporating perspectives and leadership of historically marginalized and rising voices.  
 
In my new role at Metro Community Health Center, I hope to use the knowledge I've gained to build parent and child developmental wellness initiatives to see families through the first 100 days of their babies' lives, create school-based health programs to support young people's mental and educational health, and transition support programs to help youth and young adults launch in the direction of their dreams. Learning alongside FPG-based implementation teams, the technical assistance and systems experts with Trohanis, and our highly skilled program evaluators will help me develop, install, monitor, and grow evidence-based programs while maintaining the wellness of the clinical staff. Observing and participating in relationship-centered teams will help me put my values into practice as a leader. Through FPG divisions and our focus on building collaborations, I've been fortunate to build wonderful relationships across FPG and Gillings that I hope will grow to refine evidence-based models and test solutions that we can share with the world.  
 
What advice do you have for someone interested in a career in child development, whether it be research and evaluation, implementation, technical assistance, or policy work? 
What I love about working in this field is that there is no one right entry door―all experiences and perspectives are welcome and needed. I think the most important element is to hone the skills and foundational knowledge that sings the most to you. And then to enter the field with emerging confidence and competence in those skills and knowledge such that one feels grounded in themselves. For example, implementation has a well-defined core set of skills, yet one must know them well enough to apply them flexibly and with humility, recognizing that each community has its own strengths and needs and that there is no 'one-size-fits-all' approach to anything! In fact, sometimes we are wrong or we don't have the right skills―this is where the humility comes in and allows us to be true servants to the communities rather than to ourselves. When we do this, people want to partner with us. When we learn alongside communities, we can repair and rebuild trust so that they trust us to support them as they make high stakes decisions that affect the lives of thousands of children and families.  How amazing that we can serve our communities in such a way!  
 
Any final thoughts about your time at FPG? 
I would say that I've done my best to walk alongside our colleagues with kindness and respect for others' journeys … I learned how this can be engrained into the culture through dedicated leadership like that within the Trohanis TA Projects and our own FPG leadership, like Ayse's [Aysenil Belger, PhD, FPG's director] commitment to building collaborative relationships, and our former EDI office's commitment to equity, diversity, and inclusion―what wonderful role models we have! I hope that FPG will continue to grow its muscle to center the voices of Black and Indigenous People of Color, people with disabilities, LGB2TQ people, and especially that of youth. It's commonly said that those closest to the problem are closest to the solution, and this is true for youth, too! They have so much wisdom to offer about their worlds―I have loved being a servant to youth to help them emerge and build the world the way they need it to be, rather than the way we that we think they need it to be. After all, this is their world and we're just here visiting.