FPG Celebrates National Hispanic Heritage Month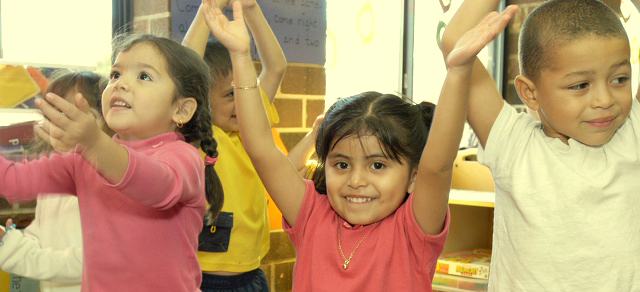 In celebration of National Hispanic Heritage Month, we have collected several related FPG resources below.
On September 15, U.S. Secretary of Education Arne Duncan opened the month with this statement about the recognition of Hispanic heritage:
"Today, the nation begins its annual observation of Hispanic Heritage Month. Through Oct. 15, Americans will reflect on the many contributions Hispanics have made to enrich the tapestry of our country in a wide variety of areas.
"This occasion affords us an opportunity to recognize the vital and increasingly important role that Hispanics play in the nation's education system and the tremendous progress they have made in education. Numbering more than 54 million people, which includes a quarter of our preK-12 student population, and more than 2 million students in higher education, Hispanics are the largest, youngest, and fastest-growing population in the country. They are an ever-larger segment of the American workforce, so it is critical that we make investments that increase access to a quality education, and support postsecondary completion.
"This year, we will also observe the 25th anniversary of the White House Initiative on Educational Excellence for Hispanics and their service to our nation's Latino community. In order to help move the nation forward, Latinos must continue to graduate from high school college and career ready. We must continue to ensure they have access to a quality, well-rounded education, if they are to help fulfill America's future."
 
Related FPG News and Resources
Read about FPG's new project on Immigrant Parents and Children in Transitions: Cultural Models and U.S. Early Childhood Education
Read "Dual-Language Learners Make Key Gains in Head Start and Public Pre-K"
Read "Latino Children Make Greatest Gains in NC Pre-K"
Access "Using Early Care and Education Quality Measures With Dual Language Learners: A Review of the Research"
Read "Development of lnfants and Toddlers Who Are Dual Language Learners"
Read "The Cognitive Development of Young Dual Language Learners: A Critical Review of the Research"
Access Learning Words for Life: Promoting Vocabulary in Dual Language Learners
Read "FPG Transforms Early School Life for African American, Latino, and Low-Income Children"
Access "High-Quality Early Education: Age of Entry and Time in Care Differences in Student Outcomes for English-Only and Dual Language Learners"
Listen to NewsRadio 680 WPTF's interview with Noreen Yazejian on Educare Schools' High Impact on Dual-Language Learners
View the collected resources on Early Identification of Culturally and Linguistically Diverse Young Children with Disabilities from FPG's Early Childhood Technical Assistance Center
Find more related projects and resources that focus in part or entirely on immigrant populations in "Understanding the 21st-Century Melting Pot" on p.16 in this issue of Early Developments on FPG's International Initiative
Explore FPG's emphasis on Race, Ethnicity, Linguistic, Cultural, and Socioeconomic Diversity
Search FPG's resources for many more articles, resources, reports, and other information