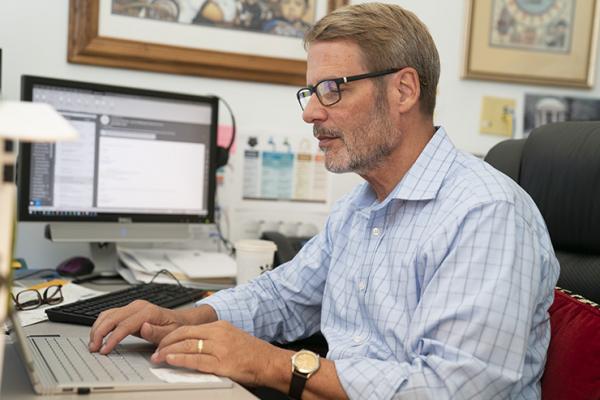 FPG Implementation Specialist Helps Residential Treatment Facilities Build Bridges to Better Care
Psychiatric residential treatment facilities (PRTF) serving North Carolina's youth and adolescents should be places where children can access the trauma-informed care they need for their own positive emotional and behavioral health outcomes, and for their families.
Reducing the use of physical restraints and seclusions in PRTFs is an area where state behavioral health leaders see opportunities for improvement, says Robin Jenkins, PhD, an advanced implementation specialist at the UNC Frank Porter Graham Child Development Institute. He is part of The Impact Center at FPG, where active implementation support for the state's Building Bridges Initiative-Six Core Strategies© project exists to promote best practices and improve long-term outcomes for youth and families served in North Carolina's behavioral health residential settings.
When treatment programs are more positive and less punitive, they naturally build more youth voices, opportunities for family engagement in treatment and real-life engagement with families, says Jenkins.
"Our implementation support specialist teams work with pilot project PRTFs in the state to support strategies reducing the use of restraints and seclusion, and to assist staff in learning methods for deescalating situations and recognizing what may trigger residents," he says. "Along with our BBI-Six Core colleagues, UNC School of Social work partners, and the state Child Behavioral Health Leadership, we help sites build implementation capacities that reinforce how to view this care through a trauma-informed lens. Working in this way helps foster a culture of understanding how trauma plays a role in the lives of these children and adolescents."
The work of the national Building Bridges Initiative helps PRTFs implement care that is family-driven, youth-guided, and trauma-informed with increased engagement from both the family and the youth throughout the entire exposure of the youth to the PRTF (from preadmission through discharge and aftercare). The Six Core Strategies© is a framework for implementing cultural changes that leads to safer environments; prevents and reduces the use of coercive interventions, including the use of restraints and seclusion; and supports trauma-informed care.
Through this project, Jenkins and his team established relationships with community- and residential-based treatment providers and local management entity/managed care organizations. The team is helping to identify organization readiness and needed implementation capacities that allow the adoption of best practices and solutions. Active implementation support for all stakeholders infuses organizations with implementation science-informed best practices to reduce barriers and embed what it takes to effectively do the work in an ongoing way.
This method of implementation is forward-thinking for the state, says Jenkins.
"Adopting and implementing new best practices is a real challenge, and some of the PRTFs are servicing large geographic areas. This is a very different way to do capacity building for implementation, where eventually we want the sites themselves to be driving it. Capacity building and supporting their ongoing performance is the legacy this program gives to them. We fully expect to transition ongoing sustainment of the work to them."
Since many of these facilities have leaders who are familiar with implementation science in mental health, their readiness for this type of initiative in their facilities can be high, Jenkins says. The Impact Center team uses self-assessment tools to evaluate a facility's readiness and capacity to do the work and guides the facility's leadership on how to implement best practices for improved quality of their services. Together, they codesign a program and support plan that works for their facility and patients.
"What we've seen so far is that staff at the PRTFs are ready to work with us. They are eager, have welcomed us into their facilities, and they're open to new learning. Many are skilled in implementation science and are generally ready in some capacity areas to make these changes," says Jenkins.
This initiative is part of UNC School of Social Work's Behavioral Health Springboard, which draws on University resources and clinical and administrative expertise of staff to link current research to initiatives in mental health. The program was announced by the N.C. Department of Health and Human Services in February 2018.