FPG Joins Global Experts in Nice, France to Share Autism Research
Date Published:
09/27/2019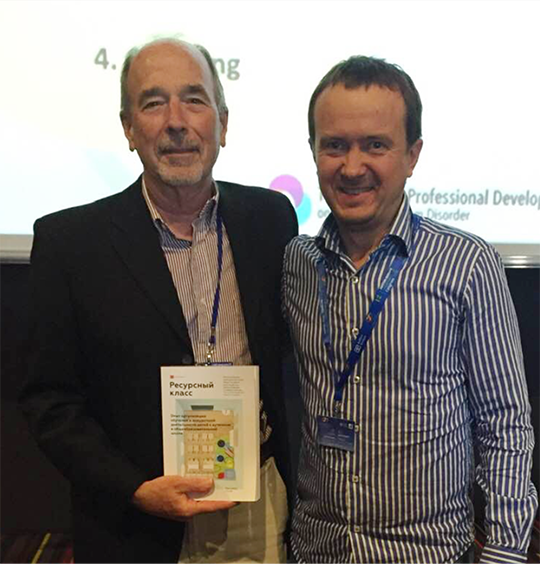 Frank Porter Graham Child Development Institute was warmly received at the 12th Autism-Europe International Congress, September 13-15, in Nice, France. This event brings together global experts in autism research every three years to address a wide range of issues, including: diagnostic and assessment, language and communication, access to education, employment, research and ethics, gender and sexuality, inclusion and community living, mental and physical health, interventions, strategic planning and coordination of services as well as rights and participation.
This year's conference theme was, "A new dynamic for change and inclusion." Samuel Odom, Ph.D., was part of a panel that described the model of intervention and service developed through the National Professional Development Center on Autism Spectrum Disorder. The center includes contributions from FPG through the Autism Focused Intervention Resources & Modules and the Center on Secondary Education for Students with Autism Spectrum Disorder. Two other presenters on Odom's panel described adaptations and implementations of the NPDC model in Sweden and Poland.
Odom presented A Program for Promoting Evidence-Based Practices in ASD Intervention and Education, which focused on the Autism Program Environment Rating Scale (APERS) that will be published by Brookes Publishing in the next year. His presentation included an overview of a coaching model that uses APERS to assess program quality to improve delivery and outcomes.
This type of global outreach and the interest it generates helps with our ongoing efforts to translate research into practice. Ann Sam, Ph.D., an advanced research scientist at FPG was contacted by a program leader in Switzerland who is interested in our work (particularly APERS) as a result of Odom's presentation. "Dr. Odom's presentation has certainly generated a lot of excitement internationally," she said. This is great for the broad adoption of evidence-based practices that will produce the best outcomes for children with autism.
###
About Autism-Europe
Autism-Europe's international congresses are dedicated to sharing advances in the practical and scientific knowledge of autism to as wide an audience as possible, including autistic people, researchers, professionals, and parents. The congresses are held every three years, each time hosted by a national autism organization in a different European country. The member organization that organizes each congress is elected by Autism-Europe's General Assembly.