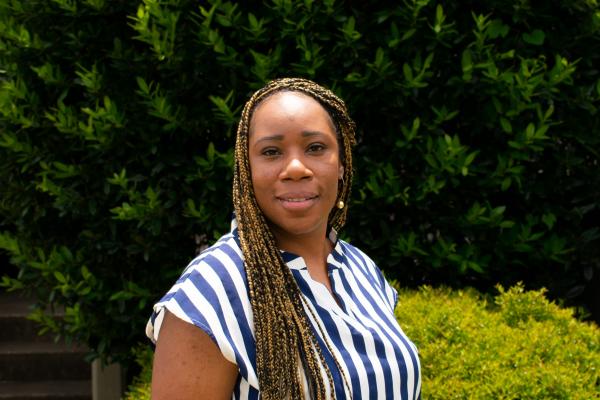 Capri Banks, MA, is an implementation specialist for the Implementation Capacity for Triple P (ICTP) project within the Impact Center at the Frank Porter Graham Child Development Institute (FPG). Before beginning her role, she worked for six years as a technical assistance provider and implementation coach, supporting childcare providers in implementing health and safety best practices and implementing an evidence-based obesity prevention program.
As part of our FPG profile series, we recently spoke with Banks to learn more about her work here at the Institute. Here's what she had to say.
---
Tell us about your path to FPG.
While working as a program manager for the Division of Public Health, I was introduced to implementation science through technical assistance provided by the National Implementation Research Network (NIRN) at FPG. With coaching from NIRN, I learned implementation science best practices and how to use implementation science for the implementation of an early childhood obesity prevention program. As an implementation coach with North Carolina Partnership for Children, I learned more about implementation science frameworks and best practices.
What is your typical workday like?
As an ICTP implementation specialist, I typically spend time coaching four of the five Triple P regions in North Carolina on improving organizational and system performance by collaboratively identifying needs and goals.
What do you like most about your job?
I enjoy connecting with implementation teams across North Carolina and providing tailored implementation support. I enjoy watching the teams I work with have "aha moments" and making connections after engaging in adult learning strategies. It is the implementation team's aha moments that make me feel that the work I do is making a difference in supporting the overall well-being of children.
The ICTP project is working with an external facilitator to address diversity, equity, and inclusion within our team. In addition to the direct implementation support I provide, I enjoy working with my team, ICTP, to think through how to embed equity into our practice. The goal is to take what we have learned as a team and apply it externally to regional ICTP support participants and partners.
How does your work further the mission of FPG?
Broadly, it's improving the lives of children. Through my work on the ICTP project, I'm actively supporting the health and well-being of children, youth, families, and communities.