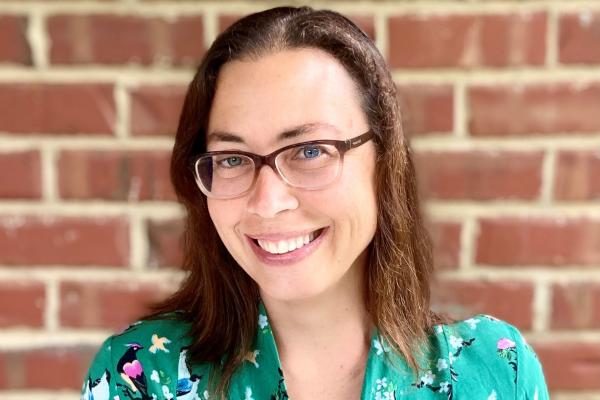 FPG Profile: Nissa Towe-Goodman
Nissa Towe-Goodman, PhD, is a research scientist at the UNC Frank Porter Graham Child Development Institute (FPG). Her research examines the interplay between the early family environment and the development of regulatory skills, and the implications of regulatory deficits for children's adaptation and mental health. This work has focused on the ways in which parenting and family violence influence early emotional, physiological, and behavioral self-regulation, how children's regulatory deficits may influence family functioning, and methodological approaches to assess regulation and parenting in at-risk contexts. Towe-Goodman currently serves as an investigator on the Family Life Project, Environmental influences on Child Health Outcomes (FLP-ECHO) project.  
As part of our FPG profile series, we recently spoke with Towe-Goodman to learn more about her work here at the Institute. Here's what she had to say.
---
Tell us a bit about your professional journey―what brought you to FPG?
In many ways, my current position at FPG is a return to where my interests in research began. I first joined FPG as an undergraduate while earning a B.S. in Biology and a B.A. in Psychology, hoping to gain experience in the research process. I had the privilege of working with an amazing scientist at FPG—Dr. Martha Cox—and fell in love with research on child development. These experiences drew me to pursue doctorate training at Penn State's Human Development and Family Studies program. I came back to the area as a post-doctoral fellow at the Center for Developmental Science, which included training in early childhood mental health at Duke's Center for Developmental Epidemiology. I then helped to direct CDS Observes, working on multiple projects focused on ameliorating risk within the parent-child relationship. I returned to FPG as an investigator on the Family Life Project–Environmental influences on Child Health Outcomes (FLP-ECHO). The Family Life Project was one of the first research studies I worked on prior to graduate school and, in many ways, my current work at FPG brought me back to where I started in my professional journey.
Describe a typical workday and tell us about the projects you're currently working on.
There is no typical workday! Much of my day-to-day involves strategizing ways to ensure high quality data collection, coordinating data management and sharing, and working on analyses and writing. I'm currently working on the FLP-ECHO project, which brought FLP (a developmental, epidemiological study of 1,292 families with children born in six, predominately low-income and rural counties in North Carolina and Pennsylvania) to the NIH supported ECHO Program. ECHO joins 69 cohorts across the country to understand the effects of a broad range of early environmental influences on child health and development, harmonized under a common data model. A primary goal of ECHO is conducting research that is translatable to change in programs, policies, or practices. Conducting translatable, cross-site collaborative research while following a high-risk longitudinal cohort across adolescence and into adulthood during a pandemic and implementing a unified data collection protocol with high fidelity has kept all of us on our toes and expecting the unexpected. It has been an incredible learning opportunity, and a chance to ask the kinds of questions one project alone cannot answer, but that inform change.
 
What do you like most about your job?
I love the process of discovery, learning new things, and the thought that this work could, in some small way, help improve the lives of children and families.
 
What do you find most challenging?
There is not enough time or resources to take on all the areas I wish I could dive into. Learning when to let go and how to focus on what is most important is a continual work in progress.
 
How does your work further the mission of FPG?
The research we do is focused on the environmental processes within and outside the family that alter children's mental health and development, with an emphasis on communities that have been underrepresented and marginalized. Children's mental health has reached the point of being declared a national emergency. Finding new and innovative ways to address the risks and stressors many children face is critically important, and central to the mission of FPG.
 
What do you hope to have accomplished five years from now?
I hope to have found new ways to use science to meaningfully improve the lives of children and families, and to listen to the communities and individuals around us.