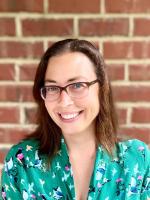 Nissa Towe-Goodman
Education
Human Development and Family Studies,
The Pennsylvania State University
Biographical Statement
Nissa Towe-Goodman, PhD, is a research scientist at Frank Porter Graham Child Development Institute at The University of North Carolina at Chapel Hill. Her research examines the interplay between the early family environment and the development of regulatory skills, and the implications of regulatory deficits for children's adaptation and mental health. This work has focused on the ways in which parenting and family violence influence early emotional, physiological, and behavioral self-regulation, how children's regulatory deficits may influence family functioning, and methodological approaches to assess regulation and parenting in at-risk contexts.
Nissa received her doctorate in Human Development and Family Studies from The Pennsylvania State University, and was a postdoctoral fellow at the Center for Developmental Science at The University of North Carolina at Chapel Hill and the Center for Developmental Epidemiology at Duke University. Nissa currently serves as an investigator on the Family Life Project, Environmental influences on Child Health Outcomes (FLP-ECHO) project. The FLP is a developmental, epidemiological study of 1,292 families with children born in six, predominately low-income and rural counties in North Carolina and Pennsylvania. Nissa was involved with FLP seeing families in the hospital and home when the study began in 2003. An overarching goal of the FLP is to understand how early-life experiences influence development in a wide range of areas, including self-regulation, language development, school achievement, risk for psychopathology, and physical and mental health. In 2016, the FLP joined the ECHO Program to become the FLP-ECHO project. ECHO (supported by NIH) brings together participants from approximately 72 cohorts across the country to understand the effects of a broad range of early environmental influences on child health and development. For more information, please visit https://echochildren.org/.