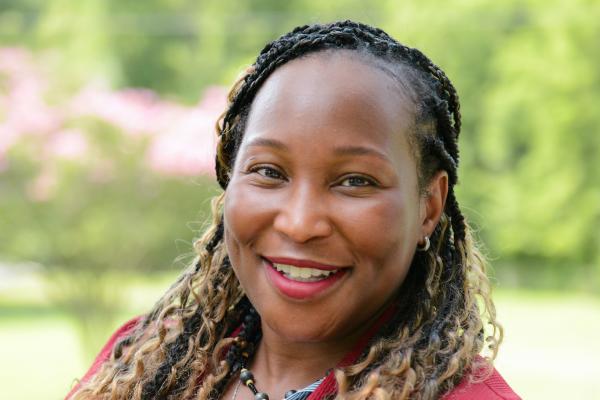 FPG Program Update: Equity Research Action Coalition
It's been two years since Iheoma Iruka, PhD, a faculty fellow at the UNC Frank Porter Graham Child Development Institute (FPG), launched FPG's Equity Research Action Coalition. Since then, the group has taken big steps in its work to promote and support the healthy development of Black children across the African diaspora and other children of color. FPG's Equity Research Action Coalition (the Coalition) focuses on developing science-based evidence that can be used to inform practice and policy aimed at eradicating the impact of racism and its consequences, such as poverty, on the lives of Black and other minoritized children, families, and communities.
With its focus on research, translation, public policy, and mentoring, the Coalition—under the leadership of Founding Director Iruka, a research professor in the department of public policy—is committed to addressing the science of early childhood with an anti-racist lens while elevating the brilliance and assets of Black children and other children of color. The Black Child National Agenda: America Must Deliver on its Promise, launched in November 2021 by the Coalition and the National Black Child Development Institute, is a blueprint of what Iruka and colleagues believe is needed in order to deliver on a promise of equality for Black people.
This ambitious agenda calls for actions to dismantle structural racism and systemic inequities that impede school and life success for Black children:
maintain child tax credits and income supports
address racial disparities in wages and career advancement opportunities
invest in Black-owned and Black-led businesses, organizations, and institutions
expand the Family and Medical Leave Act
expand health insurance
expand universal access to early care and education
address harsh and unfair discipline practices
ensure equity in early intervention and special education
ensure culturally responsive curricula and practices through workforce development and training
pass reparations
The agenda notes that these steps are not exhaustive but represent the first step toward ensuring that Black children and their families are protected from racism, discrimination, and inhumane material hardships. The goal is to ensure that Black children and their families' economic security, health, and access to quality early learning opportunities are promoted, while also preserving their cultural identity, language, and heritage.
"We are doing work in partnership with other organizations to uplift not just just the agenda but the importance of centering Black people and their experiences in society," says Iruka. "Black people have a culture which is of great value. This work is not about anti-whiteness, but about being affirmative of Black people, Black culture, and Black children's joy and well-being."
The agenda was released during Black Babies Awareness Month, an event sponsored by the Equity Research Action Coalition to spotlight and celebrate Black infants, families, and the people and organizations that support them, and to encapsulate how Black families with young babies fared during the pandemic. Iruka believes that the tremendous efforts of Black parents, early educators, community leaders, and other advocates should not go unnoticed—especially in times of crisis.
Coalition researchers examined how Black families are doing, two years after the pandemic started, and are trying to identify whether there has been progress on issues such as income earned by Black families and greater access to healthcare and paid family leave. In October 2022, the group published a report, Black Parents and Their Babies: The Dual Pandemic of Racism and COVID-19, 2019–2022, which found that Black families and their babies are surviving, although they continue to feel the weight of racism, discrimination, economic strain, and other inequities, compounded by the global pandemic.
Because Black families continue to disproportionately feel the negative effects of the COVID-19 pandemic, compounded by systemic racism, the report recommends that national, state, and local leaders and policies continue to attend to the unique needs of Black families and babies to properly recover from the devastating impact of this global pandemic. Specific recommendations include:
Protect Black babies and their families from racism, discrimination, and material hardship.
Promote economic security, along with mobility and access to high-quality and affirming health care and early learning environments, for Black families and their babies to ensure their well-being.
Preserve Black children's cultural identity and positive sense of self, a necessary developmental outcome, despite the continued racial stress and trauma present in their daily lives due to ongoing discrimination and biases.
This research is in service of creating anti-racist policies. Iruka and colleagues are examining where improvements are being made in this regard, both locally and nationally, with the goal of creating a dashboard that identifies progress on Black Child National Agenda's recommendations. This will enable the Coalition to elevate this knowledge and use those policies as a template for other communities working on developing equitable polices to benefit young children and families.
Over the past year, Iruka and her colleagues have been conducting landscape analyses of early childhood programs in North Carolina to explore the barriers and opportunities for improving access to early childhood programming and services and policies that are facilitating or hindering this effort. This work, being done with community partners throughout the state, is funded by the BlueCross BlueShield of North Carolina Foundation and the Burroughs Wellcome Fund. In 2023, the Coalition plans to launch a larger landscape analysis to understand how to improve the experiences of children of color and those living in low-income circumstances.
Through a Bill and Melinda Gates Foundation-funded project, the Coalition has been partnering with eight Black majority schools in the Educare Learning Network to focus on African-centered teaching practices. While Educare schools are meant to provide equitable and equal opportunities for all children, researchers have found that schools with majority Black children have not been doing as well compared to schools with non-Black populations. Iruka notes that just because a school consists only of Black children from low-income households, there is still a need to ensure that they have experiences that support their cultural identity and recognize the continual impact of historical and contemporary disinvestments in their communities. The research will explore whether the African-centered teaching pedagogy at the heart of this new project will benefit these children. The goal is to enable educators—through a learning space and practice guide—to engage honestly and truthfully in an affirming way with Black children in their pan-African identity.
Iruka says that since racism cannot be avoided, she focuses on its impact. "I want the science about racism to be blatantly clear, which means including measurement development and studies that elevate how racism impacts children and families neurodevelopmentally, biologically, and in terms of learning opportunities," she says. "I also want to make clear the many assets that Black children and families have, which are often not recognized because Black people are often viewed from a lens that focuses on deficits. I want our work to be part of changing the water (of racism, in which we all swim) over time."
Iruka stresses that though FPG's Equity Research Action Coalition has more than 20 projects, a growing team, and will be launching two major signature programs in 2023, it is still young and in the process of learning how it wants to function in the University and community, and how researchers collaborate with other organizations and partners who focus on not only Black children but those of Indigenous, Latine, or Asian heritage, and children with disabilities. "I want to continue to explore how we make sure that, while we use a Black-centric lens, we understand that we are also in deep collaboration and coalition building with other individuals and organizations that are doing work around equity for communities and children that have been historically marginalized."