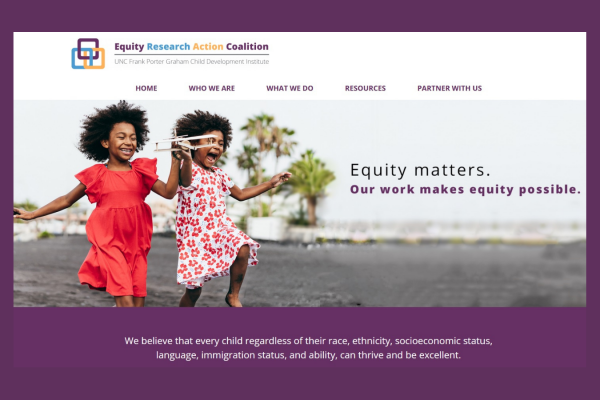 Equity Research Action Coalition takes shape at FPG
During 2006 to 2014 as a post-doc and researcher at UNC Frank Porter Graham Child Development Institute (FPG), Iheoma U. Iruka, PhD, started thinking about the need for a center dedicated to the study of Black children and families. She realized that vision soon after her return to FPG in 2020. Iruka, a research professor in the Department of Public Policy and a Faculty Fellow at FPG, is the founding director of FPG's Equity Research Action Coalition.
"I wanted a center that captures the diversity of Black children and families, including someone like me, who was born in the U.S. with African diasporic roots, growing up in a home where multiple languages were spoken," says Iruka. "While I always knew doing this kind of research was important, it became more urgent for me after my two children were born. They were born in a relatively privileged home―one that is stable with two college-educated parents, food and housing security, and access to quality health care and education."
But Iruka says that no matter how great her children are, they may not be treated that way because of the color of their skin. "My work is about them but it's also about the kids who don't have some of the privileges they have," she says. "It's my duty to use the tools I was given to contribute to the well-being of my own community."
Although there is a national conversation focused on addressing racial injustices—which are especially pressing for Black children and families—Iruka says few changes have been made in policies and programs addressing these families. To tackle this problem, the Coalition pulls together a diverse range of experts to explore historical and contemporary racism and inequities, and the differential impacts of programs, practices, and policies.
"The Frank Porter Graham Child Development Institute has long been focused on understanding the impact of inequities and disparities in child outcomes," says Aysenil Belger, PhD, FPG's director. "We sought a leader who could develop a cohesive interdisciplinary program that would conduct research focused on racial equity and excellence. Iheoma Iruka brings a deep understanding about early childhood research, policy, and practice coupled with a racial equity, social justice, and research background. I am excited to support Iheoma as she develops the Equity Research Action Coalition at FPG into a successful program bridging FPG to the University, the UNC System, and surrounding communities."
Iruka cites "three p's" central to the work of the Coalition―protecting, promoting, and preserving, which are outlined on the Coalition's new website. And this work is accomplished through the Coalition's three arms: early childhood research and evaluation; equitable early childhood policies; and mentoring and training.
Early Childhood Research and Evaluation
The Coalition considers what matters to Black children and families and researches aspects of Black families that haven't been part of the national discourse. One of these projects—African-Centered Racial Equity Justice Project: Embracing Culturally Responsive Practices to Improve Early Learning and Child Outcomes (AREJP)—recently completed its planning phase, thanks to funding from the Bill and Melinda Gates Foundation.
Iruka believes this project will begin to change the narrative about what Black children need in school. "Teaching is a social and political action and for the most part, Black children are often not afforded a classroom environment that recognizes that they live in communities and a country antagonistic to them." In collaboration with Educare Learning Network—a group of early childhood schools throughout the country working with children from birth to age five living in under-resourced communities—AREJP is researching best practices for teaching Black children.
The Coalition's researchers are creating culturally responsive tools and practice guides with strategies, examples, and materials to support African-centered teaching pedagogy, working in eight Black majority schools, in Flint, Chicago, Washington, DC, Tulsa, Omaha, Milwaukee, New Orleans, and Atlanta, along with the Educare Learning Network. "The classroom teachers will be able to center indigenous African diasporic roots in their work," says Iruka. "Even if society tells students that they are less than, when they are in a classroom and school that show them the excellence of their people, that should create a more healing environment, which promotes deeper engagement of Black children." The ultimate and long-term goal is to increase Black children's social, cognitive, and emotional skills—such as racial identity, engagement, learning motivation, and regulation—leading to strong academic and social competence and school success.
Equitable Early Childhood Policies
This arm of the Coalition works on identifying polices that protect Black children and make a difference for Black families, with a focus on designing systems and implementing programs, interventions, and strategies that build on and attend to the cultural assets and strengths of Black families. One of these projects—the Black Infant and Toddler Equity Project—identified strengths-based programs and policies that supported the well-being of Black parents and their infants and toddlers during the pandemic.
In September, in collaboration with the nonprofit, nonpartisan research center Child Trends, Iruka issued a report, "Black Parents and Their Babies: Attending to the First 1,000 Days." The Coalition looks at how families are experiencing racism to determine what polices are needed to support wealth and health of Black families and their children.
"We are committed to ensuring that all children are set up for success from the time they're born and then thrive, not just survive," says Sharron Hunter-Rainey, PhD, managing director of the Coalition. "Iheoma is a brilliant researcher who can offer quantitative data and propose remedies to policy makers so they have what they need to create informed policies."
As part of its policy work, every four to six weeks the Coalition creates micro briefs—funded by the J.B. and M.K. Pritzker Family Foundation—to provide data to policy makers. The most recent brief examined the Child Tax Credit, with a focus on Black and Latine families with babies. "We use quantitative data and engagement with Black and Latine families to see whether these policies work on a permanent basis and have some meaningful change for families who are always fluctuating between living in poverty and being barely poor," says Iruka.
She notes that the Coalition focuses primarily on Black children because evidence shows that once a policy works for Black children, it will work with all others. "My expertise is Black children so I stay within my experience, but it's important for us to collaborate with other organizations and coalitions," she says.
Mentoring and Training
When Iruka returned to the university setting at FPG, it was with a purpose; she wanted to continue to give the ability, space, and support to emerging scholars who are doing great work already. Iruka prioritizes diversity in a variety of ways, wanting not just ethnic and racial diversity but also in the disciplines of the scholars with whom she works.
"Mentoring is a duty because I couldn't be where I am without the level of support and mentoring I received," she says. "Part of being an African-centered group is being part of a village with people who give back and who give other people a platform to be their best selves."
Iruka believes that mentoring and training are a necessity for the work of the Coalition. "If we want to meet the needs and create policies that support Black children and their families, as well as other minoritized children and their families, we need a whole lot more people, both who look like me and those who don't," she says. "Mentoring is part of what I need to do and part of what I have always done."
The inaugural group of graduate research assistants being mentored and the work they are doing includes:
Dharini Bathia, a public policy student working on the child tax credit microbriefs;
Claire Breen, a public policy student working on advancing equity in the early childhood education workforce in Michigan through the Early Childhood Investment Corporation (ECIC) Child Care Innovation Fund project;
Alexandria Forte, a School of Social Work student uncovering the cultural wealth of Black families through a pilot that Iruka hopes will be a signature program for the Coalition;
Alexandria G. Huber-Disla, a public policy student working on a repository project funded by Kellogg to examine how early childhood education with a cultural wealth framework is beneficial for Black children;
Nathan Jorgensen, who studies psychology and neuroscience, is working on an IES project focusing on the extent culturally responsive practices benefit pre-K to third grade Black and Latine students' learning outcomes;
Menna Mburi, a public policy student funded by an ECIC-UNC Public Policy fellowship, is working with ECIC to identify an equity-centered data strategy for early care and education in Michigan; and
Aspacia Stafford, PhD, a post-doctoral fellow in public policy, is leading the Coalition's Outcomes Innovation Evaluation as part of the Office of Head Start National Center for Parent, Family, and Community Engagement.
In addition, undergraduate public policy student Khamiah Alderman supports the project led by Alexandria Forte.
Iruka hopes to build a coalition that shines a light on the richness of Black people and helps make Black families become more visible. "The use of the word, 'coalition,' is intentional," says Iruka, "because we need a rainbow coalition, built with a diverse group of people, to fight for Black rights and for human rights."