Frank Porter Graham Child Development Institute Releases 2019 Impact Report
Date Published:
09/18/2019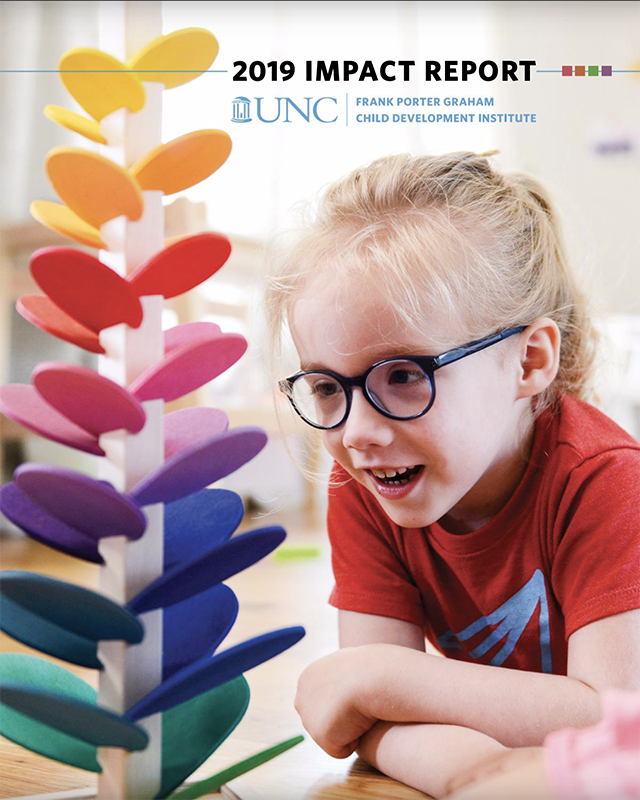 Frank Porter Graham Child Development Institute (FPG) has released a 2019 Impact Report to share updates about our work and our impact across the state and the nation during the past fiscal year (2018-2019).
Stories include: "Extending STEM to all children" spotlighting the STEM Innovation for Inclusion in Early Education (STEMIE) Center; "Partnerships boost local programs" spotlighting the Implementation Capacity for Triple P project; "Eliminating barriers to best practices" spotlighting the Autism Focused Intervention Resources and Modules (AFIRM); and "Integrating equity into practice" spotlighting the Summer Institute on Implementation Science.
In addition to the work highlighted in the report, other accomplishments for FPG last year include execution of a strategic planning process that resulted in new mission, vision, and values statements, launch of a new division structure, and creation of a senior leadership role for equity, diversity, and inclusion. These key accomplishments have allowed FPG to identify new initiatives that advance our strategic priorities and that emphasize our work in the areas of research and evaluation, implementation, technical assistance, and evidence-based child and family policies.
This past year was also an exciting period of growth for the Institute. With the addition of the Carolina Consortium on Human Development and its NIH funded T32 predoctoral and postdoctoral training programs, FPG has new opportunities to conduct research into the complex factors that impact child development. "As we look ahead to the coming year, we are delighted that UNC's developmental science community has united under the Institute," says Ayse Belger, director of FPG.
"We are recommitting ourselves to strengthening and accelerating the translation of research knowledge to evidence-based practices and policies. And we are building our capacity to use novel technologies to address critical issues of childhood adversity."
Join us in taking a look at how we are Advancing knowledge to transform children's lives.
###
The online version of the report can be accessed here.
The print version of the report is available here.