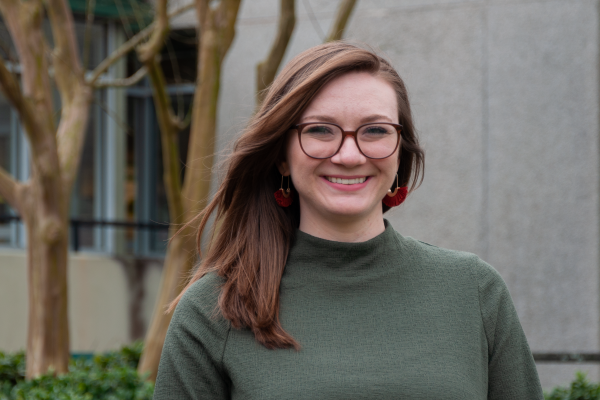 Garber receives postdoctoral fellowship from Society for Research in Child Development
In September, after six years as a social research assistant at the UNC Frank Porter Graham Child Development Institute (FPG), Kylie Garber, PhD, will move from Chapel Hill to Capitol Hill for the postdoctoral fellowship she has received from the Society for Research in Child Development (SRCD). SRCD, one of the leading organizations in its field, awards this immersive one-year opportunity to select researchers so they can learn about policy development, implementation, and evaluation, as well as how to use developmental science to inform U.S. public policy.
Garber will work directly with a member of Congress, who has not yet been assigned, to research and develop legislation benefitting children and families in the United States. This is the second time Garber has earned an SCRD fellowship. In 2019, she was awarded a one-year pre-doctoral state policy fellowship during which her main role was to provide recent research to guide infant and toddler statewide initiatives for the North Carolina Division of Child Development and Early Education (DCDEE).
While Garber has long been interested in children and the factors that influence their development, she developed her passion for policy during her time at FPG, which she joined just a semester after receiving her undergraduate degree in psychology from the University of Louisiana at Lafayette. She chose UNC for graduate school because of the plethora of resources available for professional development and FPG's storied history in the field of child development.
Garber cites her graduate advisor, former FPG senior scientist Margaret "Peg" Burchinal, Ph.D., as the mentor who first exposed her to the field of research and who taught her quantitative skills. Garber, in collaboration with Burchinal, worked on data collection for the Family Success Alliance, an initiative of the Orange County Health Department designed to reduce the effects of poverty on children's development and academic achievement by connecting families with local resources.
She also gained policy skills during her work with the North Carolina site of the Early Learning Network, (ELN), funded by the Institute of Education Sciences (IES). Garber says that she is grateful for the knowledge she received from mentors Peg Burchinal, Laura Cohen-Vogel, PhD, UNC School of Education professor, and former FPG advanced research scientist Mary Bratsch-Hines, PhD, thanks to their inclusion of her in many conversations about their ELN projects.
Sandra L. Soliday Hong, PhD, FPG's Policy Division Lead, has also served as a mentor to Garber. For the past year, Garber has worked with Hong on a policy collaboration with DCDEE, writing policy briefs on topics including early literacy from birth to age five and how North Carolina responded in the child care sector to COVID.
Garber's policy work has also included coordinating The Birth through Third Grade Interagency Council, a collaborative effort between DCDEE and DPI. The council is designed to bring together those working in early child care and pre-K with those working in K - 12 efforts to streamline processes and increase collaboration between state agencies.
"FPG has given me so much exposure to a lot of top researchers in the field, which has been very valuable for my professional development as well as my personal development," says Garber. "Sometimes, being a researcher can be isolating, especially during COVID times. It's nice to know that I have all of these people on my side, just by being a member of FPG."
While Garber is unsure where her career path will lead upon completion of the congressional fellowship, she wants to continue doing research directly with state or federal agencies because of her enjoyment in seeing the direct impact of her research. "FPG has a long history of impacting policy, both at the state and federal level," she says. "I've been inspired by working with people who have been able to impact policy. That has inspired the work that I hope to do in the future."