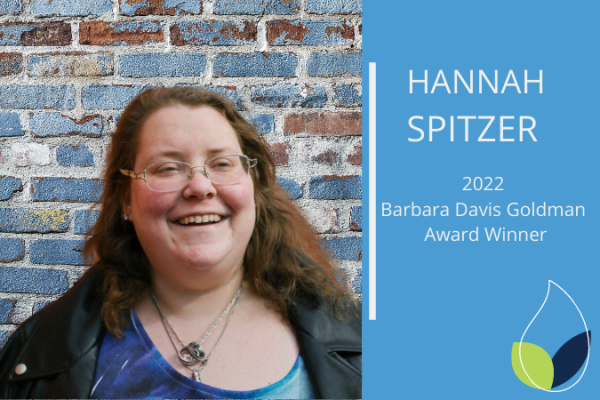 Hannah Spitzer receives FPG's Barbara Davis Goldman Award for Excellence in Undergraduate Research
Hannah Spitzer's tenacity and determination have guided her educational journey. During her sophomore year at Meredith College, Hannah—who was diagnosed as having autism spectrum disorder at the age of 14—became disabled by Ehlers-Danlos syndrome and other related disorders. The medication used to treat her illnesses made it impossible for her to attend college full time. In 2011, she enrolled at UNC-Chapel Hill and began taking one class each semester. That path will lead to her graduation this August, when Spitzer will earn a bachelor's degree in human development and family studies.
 
This month, Spitzer was named the winner of this year's Barbara Davis Goldman Award for Excellence in Undergraduate Research. This honor acknowledges an outstanding undergraduate student who has participated in research activities at the UNC Frank Porter Graham Child Development Institute (FPG).
The award is named for Barbara Davis Goldman, PhD—a retired research professor in the Department of Psychology and Neuroscience—in recognition of her commitment to empowering, mentoring, and teaching Carolina's talented future investigators over her nearly 40-year career.
Goldman, a retired senior research scientist at FPG, played a pivotal role in bringing meaningful research experiences to many of Carolina's undergraduate students by offering the opportunity for students to experience valuable autonomy and creativity as they learned to ask important questions and seek answers.
Spitzer was recognized for the research she conducts as an integral team member of Project EXPRESS: EXamining interventions to PRomote Executive function and Social Skills, which examines two programs targeted at school-based staff for middle school students on the autism spectrum. After starting in June 2021 as a student research assistant under the supervision of FPG Faculty Fellow Jessica Steinbrenner, Ph.D., CCC-SLP, Spitzer became a lab intern at the start of the Spring 2022 semester.
 
As a member of Project EXPRESS's implementation and procedural evaluation sub-team, Spitzer meets regularly with her colleagues to discuss how to capture quantitative and qualitative data. As part of this group, she worked with other team members to co-develop measures and tools and worked with the data management team on quality assurance and testing related to the REDCap research data system.
 
In addition, she contributes ideas and critiques related to plans and procedures for the project. Spitzer has started developing peer-to-peer resources, including videos and handouts, for the Center on Secondary Education for Students with Autism, a comprehensive intervention program designed for high school students across the autism spectrum.
 
Spitzer's interest in autism research began when she was 15 when she became interested in animal-assisted therapy for children with autism, which she has offered as a volunteer. The owner of two snakes, Spitzer is a strong advocate for what she calls "odd" pets for animal-assisted therapy. Her current passions also include ensuring sufficient resources for adults with autism and having autistic adults collaborate with researchers to have an impact on early childhood interventions. "I would like it if other people like me were able to feel as good as I do about my work and my life and were able to be supported by the people around them," says Spitzer.
 
In her nomination of Spitzer for the award, Steinbrenner lauded Spitzer's passion, initiative, and boldness. Her curiosity and ability to ask questions that help Steinbrenner and colleagues look more critically at the decisions they make as a research team are notable, Steinbrenner wrote.
 
"I view Hannah as a bold person, which has made her a wonderful and needed addition to our team," wrote Steinbrenner. "Although our team at times struggles to receive challenges to the status quo, Hannah has been a great and patient teacher as a neurodiverse team member. We are already figuring out how we will keep Hannah on our team after her internship ends as we view her input as critical in moving our work forward."
 
FPG advanced research scientist Ann Sam, PhD., co-investigator of Project EXPRESS and supervisor of some of Spitzer's research, appreciates her intern's initiative and love of research. "Hannah frequently volunteers to be more involved with aspects of our research project including adapting assessments, checking data collection methods, and reviewing materials," says Sam. "We are fortunate Hannah is a member of our research team."
 
Spitzer says that she was both shocked and overjoyed by the award. "I feel more validated, more appreciated, more loved, and more accepted in my internship than I do anywhere else, except with my husband," she says. "Everyone seems to appreciate anything I say. Being with my lab colleagues affirms that I'm really valuable as a person, that I deserve to exist and that I belong in the research field, even if I'll never be able to work more than 10 hours a week."
 
After graduation, Spitzer hopes to remain in her current role and perhaps explore grant writing, learn the SPSS data management system, and stay involved as an advocate for adults with autism. Her research about research participation for autistic adults has helped her find a place for herself. "It's been an odd but wonderful journey and I can't thank Jessica and Ann and everyone else (on the team) enough for giving me this chance to stretch myself," says Spitzer. "I feel like I can accomplish something with my life."