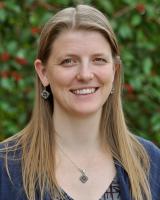 Jessica Steinbrenner
Sheryl-Mar North, Room 143
Campus Box 8040
Chapel Hill, NC 27599-8040
Academic Affiliation
Department of Allied Health Sciences
Education
Speech and Hearing Sciences,
University of North Carolina at Chapel Hill
Speech-Language Pathology,
University of North Carolina at Chapel Hill
University of Wisconsin–Madison
Biographical Statement
Jessica Steinbrenner, PhD, CCC-SLP, is an advanced research scientist at the UNC Frank Porter Graham Child Development Institute. She is also an assistant professor in the Division of Speech and Hearing Sciences and the School of Education, and is a certified speech-language pathologist. Her research interests are in the area of autism spectrum disorder with a focus on school-based interventions and individuals on the spectrum with significant communication needs. She is also interested in observational measurement, and has worked to adapt and use observational coding systems for social-communication and engagement.
Steinbrenner is currently PI on Making Professional Development Work for Preschool Classroom Teams Serving Students with ASD, a development and innovation grant through the Institute of Education Sciences (IES), and site PI on the Validation of an Outcome Measure for Early Social Communication for Children with ASD through NIH. She is also working on the Center on Secondary Education for Students with ASD (CSESA) follow-up study and the Supporting paraprofessional-Teachers use of Evidence-based practices with Learners with Autism Research project (STELAR). Steinbrenner is the assistant director for the National Clearinghouse on Autism Evidence and Practice (NCAEP). She previously served as principal investigator on an applied research grant funded by the Organization for Autism Research titled "Improving Social-Communication and Engagement of Elementary Students with Autism Spectrum Disorders: Adapting a Preschool Intervention for Elementary School Classrooms."
Prior to returning for her research degree, Steinbrenner worked as a speech-language pathologist with elementary and middle school children with autism and other developmental disabilities. She has nearly two decades of experience working with individuals on the autism spectrum.