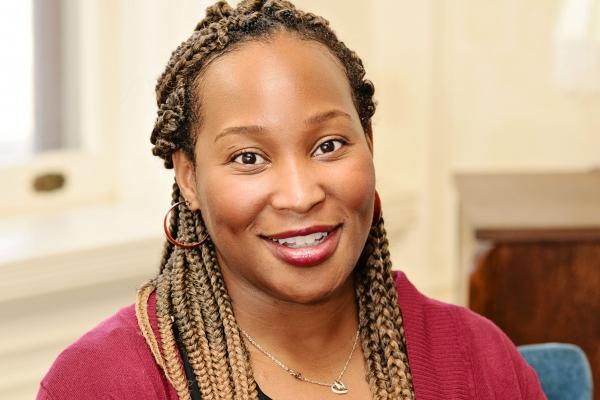 Iheoma Iruka Strives to Make Racial Equity 'the Air We Breathe' at FPG
With "a sense of kinship and responsibility," Iheoma Iruka, PhD, former associate director for research at the UNC Frank Porter Graham Child Development Institute, is returning to FPG in a new role as the Program Director for Racial Equity.
"FPG is part of who I am," says Iruka, who will also join UNC's Department of Public Policy as a research professor. "I got my research credentials at FPG, and there was so much opportunity provided to me here. I want to make sure that FPG continues to thrive and be prepared for the next 50 years."
Part of her responsibility, she says, is to be a change agent in the way FPG considers racial inequality and racial justice in terms of research, education, and policy, particularly when it comes to recognizing the strengths of children and families of color. As the nation faces a racial reckoning, and UNC-Chapel Hill is confronting its own racial history, Iruka says FPG can be part of a true, dynamic transformation in racial equity.
"We need to re-center our work as it concerns racial equity and challenge the notion of research as a whole. We have to take a new look at the ways we measure success for children and ask whether we're fully capturing the needs of children from all backgrounds. How do we make sure we're not part of creating more disparities? How do we make sure we're influencing policies that actually leverage those strengths?"
Iruka says this extends beyond the content of the work programs and projects underway at FPG and into the way FPG operates as a research institution.
"Racial equity should be part of the air we breathe at FPG—from the divisions to our human resources and business operations, to our data center. No space should be untouched. Our students, our faculty members, our investigators, our staff, our postdocs should all be part of this."
Since leaving FPG in 2014, Iruka says she has been on an adventure, one that has given her new perspective, wisdom, and drive. She was the director of research and evaluation at the Buffett Early Childhood Institute at the University of Nebraska, where her experiences working with families and policymakers in a more rural environment offered a broader lens that has enriched her work.
"You have a particular lens of how you see the rest of the country and going out there allowed me to see myself as an other, and to see myself in others. Being in the rural frontiers of Nebraska, working with mostly white male policymakers and engaging in their conversations, helped me see that there are many ways we can come together. I think that was important because we tend to not have those conversations. That pushed my comfort zone beyond what I expected."
After three years in Nebraska, she joined the HighScope Educational Research Foundation as chief research officer. Working outside the realm of higher education gave her the flexibility to imagine the kind of work she wanted to do and how she could work within organizations to create true change in racial equity.
In her return to FPG, she asks the community to imagine with her and recognize how often the field of early childhood education has considered issues of child readiness, family, classroom environments, and quality measures through white perspectives. When voices of color are excluded from research and data collection, both in terms of study participants and research collaborations, the policies that are informed by that research are not only unhelpful to those children, but they also can actively work against them and create more inequity.
"Research has had a savior complex about children of color, particularly those in poverty, and the way to change this is to go back and consider whose perspectives you're seeking and if you've expanded how you're thinking about your research questions—What is quality? What is a good child outcome for this family? Who says the child is ready? Who says this is a strong family and what makes them strong?"
Impacting policy and decreasing equity gaps for children won't happen quickly, says Iruka, but policy is "where the research meets the road" at local, state, and federal levels.
"It's a slow walk up," she says, but she feels a responsibility to support FPG's commitment to racial equity in every level of the Institute and to show FPG leaders, like the Executive Leadership Board, how FPG is leaning in to change. That change is something that makes a true difference in the lives of children, their families, and the broader community who can learn from FPG's commitment, she says.
"The internal struggle of our institutions is that many of them were built by Black people, as was UNC. I feel responsible in many ways that, whatever the next few years look like for FPG, we are diverse, and we are honoring the past shoulders we stand on by making the world a more equitable place for families of color. It's important to signal to the University and the early childhood community that part of moving forward is rectifying these ills."