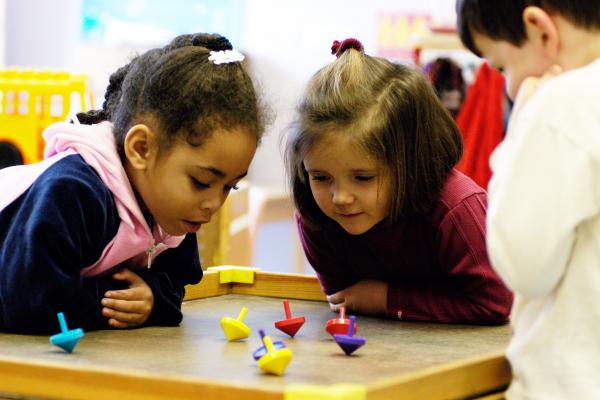 Inaugural STEMIEFest Reaches Variety of Audiences
The STEM Innovation for Inclusion in Early Education Center (STEMIE) at the UNC Frank Porter Graham Child Development Institute held its inaugural STEMIEFest event from September 14-18.
"The festival was built to share the message that each and every child, including children with disabilities, should be provided opportunities in STEM, and that all children can succeed if provided high expectations and given the opportunity with the right supports," said Megan Vinh, PhD, STEMIE co-director and senior technical assistance specialist at FPG.
STEMIEFest had initially been planned as an in-person event, but it was moved online due to the COVID-19 pandemic. STEMIE partnered with Bridge Multimedia to develop an effective and engaging virtual event that made use of both synchronous and asynchronous activities. Live events included pre-recorded presentations with a live chat, STEM storybook readings, "Makerfest" sessions where participants learned about making music with wind, a panel discussion, and a documentary screening. Asynchronous resources included discussion boards and "Media Cubbies," in which participants browsed and viewed STEM learning videos provided by museums and agencies.
The inaugural festival brought in 1,857 registered participants of various backgrounds.
"The majority of the participants were practitioners/administrators and researchers, but we also had families, librarians, museum personnel, and faculty in attendance as well," said Vinh.
It was important for the event to appeal to this variety of audiences, so a balance had to be struck between research findings and resources that could be implemented immediately.
"Engaging in partnerships with Boston Children's Museum and Bridge Multimedia helped us to go beyond the realm of research and ensure that STEMIEFest included immediately available and accessible resources and other useful professional development supports that could be easily embedded into what people need now," said Vinh.
STEMIE is positive that they will hold a STEMIEFest in 2021.
"We know in reality, this will likely be in a virtual setting again," said Vinh, "but we hope to have a STEMIEFest in person sometime in the future."