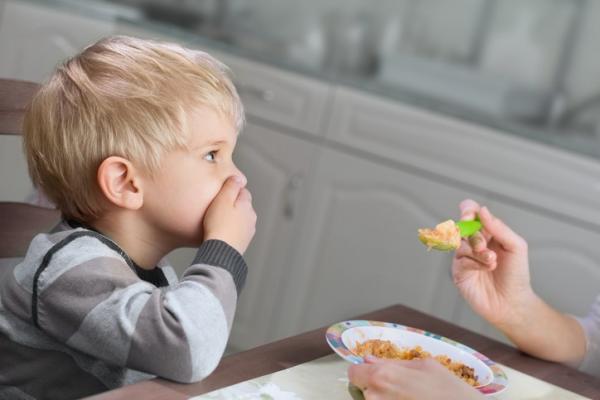 With the Joanne Erwich Roberts Early Career Award, Nowell will study new approaches in feeding and autism
Feeding and nourishing children is one of a parent's strongest instincts, says Sallie Nowell, PhD. It is a core responsibility of parenting and an essential, often joyful, part of family life.
But for families where a child has autism, issues around feeding can become a significant source of stress.
"We know that 80% of children with autism have what we call disordered feeding, which looks like extreme picky eating – only eating foods of a certain color or a certain type, to the point where it can cause issues like obesity or malnutrition," says Nowell, a speech-language pathologist at the UNC Frank Porter Graham Child Development Institute. "Families have certain expectations of what mealtime is going to look like for them, and when that is altered, it's stressful and hard for them."
With financial assistance from her recent Joanne Erwich Roberts Early Career Award, Nowell will be able to explore the efficacy of the SOS Approach to Feeding in children with autism, coaching their parents via telehealth using an approach that has been widely used by occupational and speech therapists, but on which there has been little research within the autism community.
"The SOS Approach to Feeding is a naturalistic, family-based intervention for kids who have feeding disorders, who have food refusal or avoid certain foods by type or texture. The approach uses a hierarchy of steps to work with children where they are in their feeding struggles and expand slowly from that point. It has been used for kids with autism, but it hasn't been studied specifically in children with autism."
Eating is an important part of culture for families. Dinner-table conversations are an early experience in communication and development that many families look forward to, and they traditionally are a time for bonding. Families of children with autism may struggle with family customs of mealtime, like staying seated at the table or eating family foods. During the COVID-19 pandemic, many families are together, having multiple meals at home, which could add even more stress to families who have a child with feeding disorders.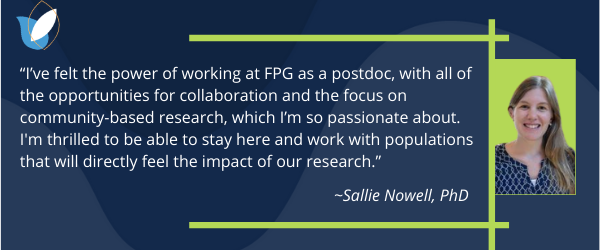 Nowell's study will include children with autism who are developmentally between the ages of 3 and 6 years old, ages where parents are still their primary guides and the ones who are mainly responsible for eating and communicating with the child. She says it is critical to listen to parents' expectations, routines, and traditions and start there to address the issues that are most important to the family.
"The parents are the ones who need to learn these skills and apply them. An outside interventionist may have great skills, but it can also be a bit like when your child does well with the babysitter, but not you, and you wonder what you're doing wrong," says Nowell. "Coaching parents about what they can do in the moment with their child allows the intervention to be really individualized and tailored to that exact family culture."
The Joanne Erwich Roberts Early Career Award was established to support the early career development of researchers and honor Joanne Roberts, PhD, a distinguished researcher and professor with a long and dynamic career at UNC-Chapel Hill and FPG until her untimely death in 2008. With faculty appointments in the Division of Speech and Hearing Sciences and the Department of Pediatrics at the UNC School of Medicine, and actively involved in the Carolina Institute for Developmental Disabilities (CIDD), Dr. Roberts worked across disciplines and cared deeply about supporting researchers in their career development.
To honor her memory, loved ones established the Joanne Erwich Roberts Memorial Fund in 2009 to sponsor an annual early career award. Funds may be used to support the recipient's professional development, such as travel to meetings or conferences, registration for workshops or short courses to improve statistical or technical skills, annual membership dues in professional organizations, or other activities that could enhance the individual's career.
For this award, Nowell partnered with Anna Wallisch, PhD, a postdoctoral researcher and occupational therapist at the University of Kansas.
"The Roberts award has an emphasis on multidisciplinary collaborations, and the spirit of this project for me is one of interdisciplinary collaborations," says Nowell. "The award will enable both Anna and me to be formally trained in the SOS Approach to Feeding so that we may use it to fidelity with our study participants."
In a letter of recommendation for the award, Kara Hume, PhD, stated that she was confident that the Roberts award would serve to launch an independent line of research for Nowell, help her be more competitive for additional lines of funding, and enhance her already impressive contributions to the field.
"Sallie has proven to be a strong collaborator and effective communicator, as well as an emerging leader. She is focused and driven, with a clear focus on partnering with community members to ensure her research and practice related to supporting the needs of individuals with developmental disabilities is conducted in a thoughtful, sustainable, and rigorous manner. She has already demonstrated a record of scholarship related to these issues," wrote Hume.
An early career award and the promise it offers is fitting as Nowell advances from an Institute of Education Sciences postdoctoral fellow at FPG to its staff, joining the Research and Evaluation Division where she will continue to work on projects that support children with autism.
"I've felt the power of working at FPG as a postdoc, with all of the opportunities for collaboration and the focus on community-based research, which I'm so passionate about," says Nowell. "I'm thrilled to be able to stay here and work with populations that will directly feel the impact of our research."