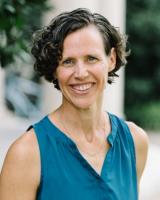 Kara Hume
Biographical Statement
Kara Hume, PhD, is a Fellow of Frank Porter Graham Child Development Institute at UNC-Chapel Hill, as well as Associate Professor and the Richard "Dick" Coop Faculty Scholar in Education in the School of Education. She serves as Principal Investigator (PI) and Co-PI on several studies with children, adolescents, and adults on the autism spectrum. Her research focuses on increasing access for individuals with developmental disabilities to high quality community-based interventions. Her research interests span the age range—with most of her work focusing on school-based interventions for individuals with developmental disabilities.
During her years at UNC, Hume, in collaboration with a number of colleagues across departments and disciplines, has received more than $14,000,000 in funding as PI or Co-PI, published more than 40 manuscripts, and has led two of the largest studies to date examining the efficacy of school-based interventions for students with developmental disabilities. The Interagency Autism Coordinating Committee has twice identified her work as a top 20 yearly scientific advance in ASD research.
Hume has worked with children and young adults on the autism spectrum for almost 30 years in a variety of capacities, including a home program therapist, teacher, trainer, consultant, fitness coach, and researcher. She was a classroom teacher for seven years working primarily with students on the autism spectrum and is a Certified Advanced Consultant with the UNC TEACCH Autism Program.
Research Specializations: Classroom and home-based intervention strategies for young children, school-age children, and adolescents with developmental disabilities; use of structured teaching strategies with individuals with autism spectrum disorders (ASD); professional development and implementation support for special education service providers; and identification, review, and evaluation of evidence based practices for individuals with ASD.