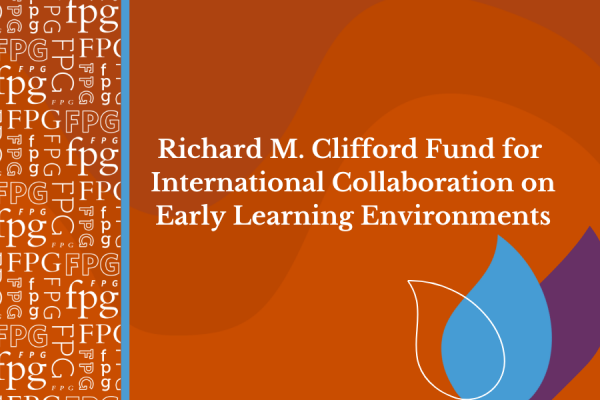 Lim and Soukakou inaugural recipients of new Clifford fund
Throughout his long and storied career, Dick Clifford, PhD, senior scientist emeritus at the UNC Frank Porter Graham Child Development Institute (FPG) has made a profound difference in the field of early education. He continues to impact the field, with one of his more recent contributions being the creation at FPG of the Richard M. Clifford Fund for International Collaboration on Early Learning Environments. Clifford and his wife, Ginger, funded this trust to support FPG's work in assessing learning environments for young children throughout the world, with a special focus on international collaborations.
 
In December, the FPG Award Selection Committee selected FPG Senior Technical Assistance Specialist Chih-Ing Lim, PhD, as the inaugural recipient of the Clifford Fund award. She received the honor along with Elena P. Soukakou, D.Phil., Honorary Research Fellow at the University of Roehampton, co-principal investigator on the funded project, "Examining Cultural Differences in the Use of the Inclusive Classroom Profile (ICP) Tool in Singapore." Lim, who is co-director of FPG's STEM Innovation for Inclusion in Early Education (STEMIE) Center, was born and raised in Singapore where she worked as a preschool officer on the national early childhood curriculum framework at the Ministry of Education in Singapore and continues to consult on projects related to inclusive learning environments in Singapore. Soukakou—who was a postdoctoral fellow at FPG between 2008 and 2010—developed the ICP tool to assess and support the quality of inclusive learning environments for all children.
 
Since 2021, the researchers have been working with a pilot inclusive preschool project initiated by the government in Singapore, helping a group of coaches support the implementation of inclusive practices in the pilot centers. With the Clifford grant, they will collaborate on examining the cultural differences and potential adaptations in the use of the ICP tool in Singapore. The project will focus on using qualitative methods to understand the cultural and contextual differences and nuances in order to consider ways of adapting the tool for Singapore. The funding will support the scholars in hiring a research assistant, allowing Soukakou to travel to Chapel Hill from her base in Greece to collaborate in person with Lim, and enabling Lim to travel to Singapore for classroom observations and meetings with Singaporean collaborators.
"I want to support work that helps us understand the needs of all children in early childhood settings and helps broaden the ability to look at environments all around the world," says Clifford. "I'm thrilled that this project was the first one chosen, because (Chih-Ing and Elena) have a great opportunity to see if the instrument needs to be adapted to the culture."
 
As one of the developers of the Early Childhood Environment Rating Scale (ECERS), Clifford helped set the standard for defining quality early childhood education. His commitment to continuous improvement led to the development of the fund. "I want to support work that helps us understand the needs of all children in early childhood settings and helps broaden the ability to look at environments all around the world," he says. "I'm thrilled that this project was the first one chosen, because (Chih-Ing and Elena) have a great opportunity to see if the instrument needs to be adapted to the culture."
 
Cliffford, who was an informal mentor to Lim during her graduate studies at UNC Chapel Hill, says that Lim and Soukakou working together is a perfect fit for his vision for the fund, thanks to their international work, experience working with tools to assess high-quality inclusive early childhood education, and commitment to young children with disabilities in inclusive settings.
 
The award is designed to support an activity or collaboration that most closely matches the intent of the Clifford Fund, including assessing learning environments, interventions, and implementations, supporting adaptations, and working collaborations. The FPG award committee is comprised of: Jessica Amsbary, PhD, technical assistance specialist, STEMIE; Capri McDonald, MA, FPG implementation specialist; and senior research scientist Ann Sam, PhD, research and evaluation division lead. "Chih-Ing is doing such amazing work related to ensuring all children are able to engage and learn in their classroom environments," says Amsbary, on behalf of the committee. "Her international collaboration around an environmental assessment focused on high quality inclusive practices has the potential to lead to meaningful change and improved outcomes for all children."
 
"Chih-Ing is doing such amazing work related to ensuring all children are able to engage and learn in their classroom environments," says Amsbary, on behalf of the committee. "Her international collaboration around an environmental assessment focused on high quality inclusive practices has the potential to lead to meaningful change and improved outcomes for all children."
Lim and Soukakou are honored to be the first recipients of this award. "This award serves a significant purpose, and as an international scholar, I am grateful for the opportunity to work together with Chih-Ing," says Soukakou. "Dick Clifford's international work has taught me that it's really important to consider the cultural differences, the needs and priorities in each context. This award gives us the chance to work closely with a group of professionals to create adaptations that will enable providers to have a tool that serves their unique needs."
 
"Dick has always been so supportive and a great mentor in helping me think about issues and practices on a global scale and the importance of broadening our scope of understanding of early childhood learning environments and experiences outside of the United States," says Lim. "It's a privilege to have this opportunity to get started on this work because Elena and I believe that this culture adaptation work is critical."