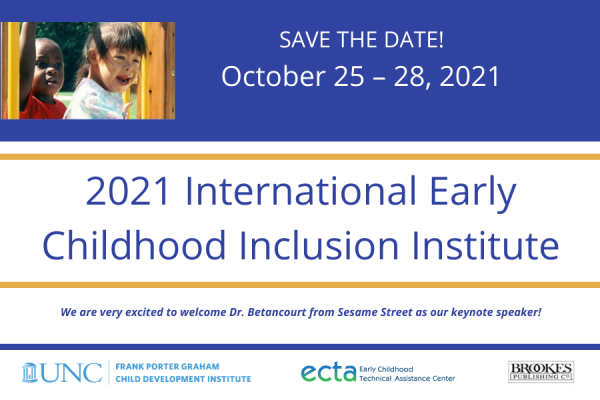 National Early Childhood Inclusion Institute goes international
The National Early Childhood Inclusion Institute has become one of the premier educational opportunities for anyone involved in the care and education of young children with special needs in inclusive settings. For two decades, this event has drawn people from across the nation and around the world to Chapel Hill to:
learn about the latest research findings, models, and resources that guide inclusive policy, professional development, and practice;
develop collaborative relationships and cross-agency systems that support early childhood inclusion; and
have the opportunity to meet, learn from, and problem-solve with peers.
This year, this event is going international—and registration is now open!
The 2021 International Early Childhood Inclusion Institute, which will be entirely virtual this year, will take place Monday, October 25, 2021, through Thursday, October 28, 2021. In addition to a host of groundbreaking sessions by world-class experts, there are many things you can look forward to at the Inclusion Institute this year, including:
Dr. Jeanette Betancourt from Sesame Workshop will present the keynote address on Sesame Street and inclusion.
Parent, author, and advocate Adiba Nelson will present a plenary on empowering our children, based on her journey with her daughter with special needs.
The Inclusion Institute's first international panel will address global perspectives on inclusion.
Federal representatives will discuss what's happening nationally on inclusion.
The theme for this year is Forging Equitable Opportunities from Crisis. "As we have encountered the challenges of working within the context of the pandemic, we want to focus on not just the difficulties but the triumphs that have arisen from this unique time," says Adam Holland, who is a member of the Inclusion Institute's planning team and a technical assistance specialist and research scientist at the UNC Frank Porter Graham Child Development Institute.
"The incredible dedication and hard work of countless professionals and families have resulted in a wave of new ideas, new partnerships, and new ways of doing the critical work that we do," says Holland. "At the Inclusion Institute, we are thrilled to showcase this work for all our participants both in the U.S. and internationally, empowering one another to achieve greater, more equitable outcomes for our most vulnerable learners."