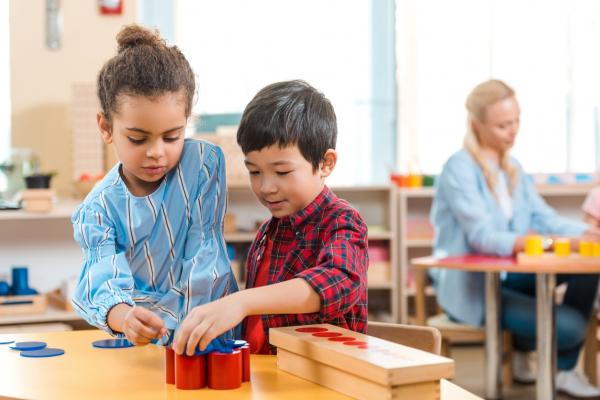 NC-ELN selected for coaching to advance equity and culturally responsive practices in NC preschool classrooms
What would it look like if each child left preschool with a positive cultural self-identity?
"What a change that would make, especially for children and families of color, to leave the preschool years with a positive, affirmed cultural identity and self-image of whoever they are," says Catasha Williams, MEd, technical assistance specialist at the UNC Frank Porter Graham Child Development Institute. "And if not now, when?"
Williams and Sherri Britt-Williams, MPH, are co-principal investigators of FPG's North Carolina Early Learning Network (NC-ELN), which is one of only two programs nationwide to be selected for the Implementation Coaching to Advance Equity in Pyramid: TA Partnership from the National Center for Pyramid Model Innovations (NCPMI).
The two-year partnership is a targeted technical assistance collaboration where NC-ELN will work with coaches from NCPMI to strengthen a focus on addressing equity and the promotion of culturally responsive practices within the Pyramid Model for Promoting Social Emotional Competence in Infants and Young Children. The TA partnership will result in establishing a state demonstration program including resources, tools, and processes that reinforce equity across NC's Pyramid Model implementation classrooms, of which there are more than 300.
"There are no other sites like this in the nation, and the benefit of being the first to do this is that we get to shape it," says Williams. "We're not trying to fit a mold; we're blazing a trail."
NC-ELN provides the NC Department of Public Instruction with robust support for the effective implementation of NCPMI's Pyramid Model, which teaches practices and strategies that develop and enhance social-emotional competence in young children.
"The Pyramid Model has equity embedded. However, we feel like it's time to be very explicit about some instructional and coaching practices, and programmatic and system-wide changes, that are necessary to ensure that racial equity is not missed. This is as an opportunity to examine how might current policies and practices be part of some solutions to the disparities that exist in the field of early education," says Williams.
Strengthening equity within this model takes many forms, says Williams, from considering how centers are designed to what books are presented to children, all the way up to what policies may be hindering equity or enabling inequity. Receiving TA coaching from NCPMI will resource FPG's NC-ELN coaches, who will, in turn, resource other program consultants and specialists across the state. The resulting demonstration site will allow for a scaling up of the refined Pyramid Model practices for a broader impact.
Social-emotional learning teaches young children how to manage emotions and behavior, build relationships and self-awareness, make decisions, and show empathy for others. Research has shown that children have better social skills and less problem behavior in Pyramid Model classrooms, and teachers are able to implement Pyramid Model practices better if they receive training and practice-based coaching.
"Social-emotional learning initiatives began with thinking about challenging behavior and we know there are huge disparities when it comes to education and discipline for children of color," says Williams. "A lot of our focus is on teacher practices, especially when it comes to equity because it helps you think, 'What am I doing in this situation as the adult, and how do I change the learning environment so a child can thrive?' versus 'How do I change a child?'"
The opportunity to advance equity within the Pyramid Model comes at a critical time, says Williams, particularly after events of the summer came with an increased awareness of systemic racism and renewed calls for justice. In the fall of 2020, the NC State Board of Education passed a resolution committing to equity in public education and culturally responsive practices, and the state's education leaders are still working to comply with a 1997 NC Supreme Court ruling (Leandro v. State of North Carolina) that all students are entitled to receive a sound basic education.
"When equity is embedded as part of a system, it doesn't leave if one person leaves. The end goal isn't just providing educators with practices and getting to fidelity on a tool," says Williams. "This is about creating a culture within the system, and it starts from the minute the child hits the door, and it doesn't end until they have that positive cultural identity all children deserve."