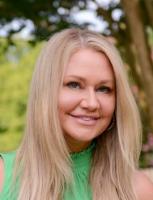 Sherri Britt Williams
Technical Assistance Division Lead
Senior Technical Assistance Specialist
Sheryl-Mar North, Room 212
Campus Box 8040
Chapel Hill, NC 27599-8040
Education
Health Policy & Management,
University of North Carolina at Chapel Hill
University of North Carolina at Pembroke
Biographical Statement
Sherri Britt Williams, MPH, leads the Technical Assistance Division at FPG and is the principal investigator and director of the NC Early Intervention Technical Assistance and Professional Development Support (NC EI-TAPS) project and the NC Early Learning Network (NC-ELN) project. She is also a technical assistance specialist for the Early Childhood Technical Assistance Center. All projects are within the Trohanis Technical Assistance (TA) Projects at the UNC Frank Porter Graham Child Development Institute. In addition to managing the NC EI-TAPS and NC-ELN projects, Sherri develops and provides training and professional development support to early childhood professionals and helps state systems implement successful and sustainable initiatives and practices using an implementation science framework. The NC Preschool Pyramid Model (NC PPM) initiative is one of those initiatives, and Sherri has been instrumental in developing implementation supports, including fidelity and coaching tools and training, and an implementation and coaching online system which is used across the state of NC to collect data on coaching practices and implementation plans and progress related to the NC PPM initiative. She also facilitates stakeholder groups and other meetings and provides consultation, coaching, and technical assistance to leadership teams and early childhood systems. Sherri's life's work focuses on ensuring all children have access to high-quality, developmentally and culturally appropriate early intervention and early childhood education experiences. She takes a special interest in family engagement, racial equity, emotional and social development in young children, instructional design for adult learners, leadership and team development, and coaching and consulting for professionals; and she has presented on those topics across the US to a variety of audiences.