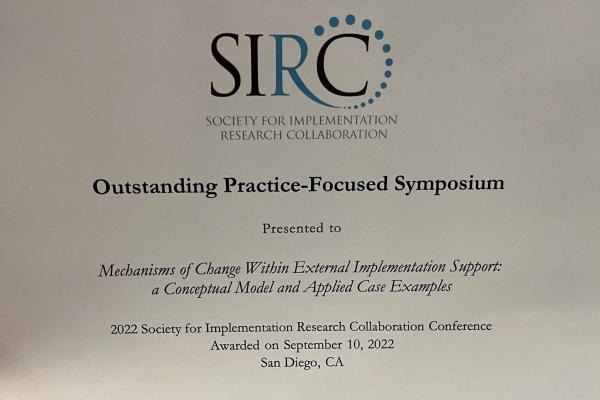 Outstanding practice-focused symposium win at SIRC
News from the 2022 Society for Implementation Research Collaboration Conference
Three implementation specialists at the Frank Porter Graham Child Development Institute, along with three colleagues from other institutions, earned a top award during the 2022 Society for Implementation Research Collaboration Conference (SIRC). Their symposium titled "Mechanisms of Change Within External Implementation Support: A Conceptual Model and Applied Case Examples" won Outstanding Practice-Focused Symposium, one of the top conference awards, at the SIRC biennial conference in San Diego.
FPG's Rebecca Roppolo, MPH, chaired the symposium, which was anchored by a presentation from Will Aldridge, PhD, Conceptual Model of Core Practice Components and Outcomes of External Implementation Support. The symposium included case example presentations from:
Jacquie Brown, MES, RSW | School Mental Health Ontario;
Brian Bumbarger, PhD, | Louisiana's Center for Evidence to Practice); and
FPG's Renée Boothroyd, PhD | California Child Welfare Practice Model.
Rohit Ramaswamy, PhD, a former faculty member at UNC Gillings School of Global Public Health who is now at Cincinnati Children's Hospital, wrapped up the symposium, which was also a finalist for the "Outstanding Research-Focused Symposium" award, making it a rare two-category finalist across both practice and research.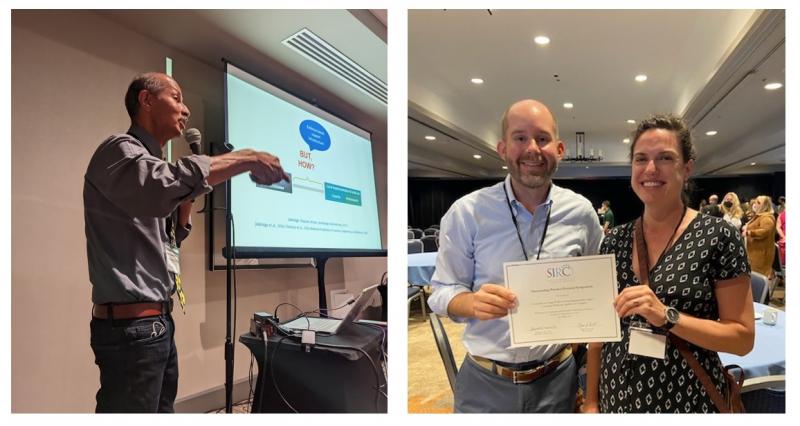 "To win the award for outstanding practice-focused symposium at SIRC 2022 and simultaneously be a finalist for outstanding research-focused symposium was amazing," shared the FPG implementation specialists Roppolo, Aldridge, and Boothroyd. "As part of another symposium also chosen as a finalist for outstanding practice-focused symposium, we additionally presented an evaluation of our implementation practice activities in the ICTP projects. These nominations and the award reinforce our efforts to bring evidence and an organized approach to implementation practice. We're incredibly honored and thankful for the platform SIRC 2022 provided for The Impact Center at FPG's work."
In addition to these two symposia, members of FPG's ICTP team led or co-led a pre-conference workshop and four poster presentations.
Learn more about implementation work at the Institute.