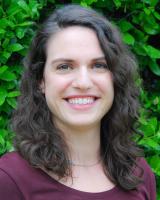 Rebecca H. Roppolo
Senior Implementation Specialist
Education
Social and Behavioral Sciences,
Biographical Statement
Rebecca Hebner Roppolo, MPH, is an implementation specialist with Frank Porter Graham Child Development Institute at The University of North Carolina at Chapel Hill and lead of the Quality and Outcome Monitoring for Improvement Core for The Impact Center at FPG. Rebecca's work includes leadership of the quality and outcome monitoring for active implementation and scale-up of evidence-based prevention/well-being strategies in communities and state, regional, and national service systems. She earned her Master of Public Health from Johns Hopkins University, where she specialized in health communication and social and behavioral sciences, and her bachelor degree from Stanford University. Rebecca's previous work includes state-level implementation and evaluation of communication campaigns, data monitoring and evaluation systems, and policy analysis.