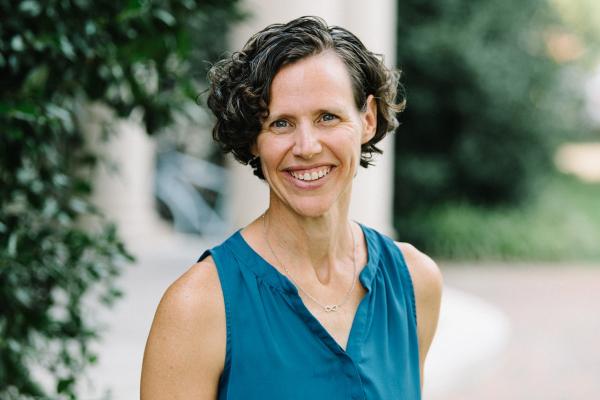 Program shown to be effective helping youth with autism reach their educational goals
In a first-of-its-kind study, researchers led by the UNC School of Education's Kara Hume, Ph.D., who is also a Faculty Fellow at the UNC Frank Porter Graham Child Development Institute (FPG), found that a new comprehensive intervention for high school students with autism was more successful in helping them reach educational goals than services typically provided for autistic students.
Results of the three-year efficacy study of the Center on Secondary Education for Students with Autism model — the largest study ever conducted of a comprehensive intervention for high school students with autism — were published in the journal Exceptional Children in December.
"We're excited to share these findings, as they come from the first large-scale randomized control trial of an intervention aimed at improving services for high school students with autism," Hume said. "The CSESA model has been getting some attention from researchers and practitioners in the field of autism, and now this is the first study that demonstrates that the model can help schools provide better supports for these students."
The CSESA model was developed by a team of researchers at seven universities, informed by autistic youth, their families, school personnel, and community partners, and was led by Hume and Sam Odom, former director and now a senior research scientist at FPG. Supported by a grant from the Institute of Education Sciences, the team previously spent two years developing the model and training teams of high school educators how to use it.
The CSESA model targets four core areas: academic performance as measured by reading comprehension, peer and social competence, independence and behavior, and transition and families. Several of the interventions used in the model are based on evidence-based practices established by the National Professional Development Center on Autism Spectrum Disorder, which is based at FPG.
The new study, which reports data from three years of evaluating use of the CSESA model, is the first of a series to examine the efficacy of the intervention and its ongoing impact on students. Researchers plan to follow the study participants for several years to learn about their engagement in postsecondary education, employment, and community activities to ascertain how well the CSESA model may have helped prepare them for life after high school.
Results of the study
The study involved 60 high schools in three states (North Carolina, Wisconsin and California), examining the outcomes of the 547 students with autism initially enrolled in the study and their families. Researchers used a cluster randomized control trial format to compare the outcomes of two sets of students with autism: Those at 30 high schools using the CSESA model and those at 30 high schools using services typically provided for autistic students.
Among its results, the study found that schools using the CSESA model saw significant positive changes in the quality of programming offered to students, as well as significantly more attainment of the students' learning goals.
In student performance on standardized measures, the study found no significant differences among the CSESA participants compared to students who received typical services. Hume and co-authors speculated that it may take more time for positive effects on standardized measures to appear.
Hume and fellow researchers reported that although implementation of the CSESA model is labor-intensive and requires a multiyear commitment, the program was well received by the school autism teams that used it.
Learn more about Hume, the CSESA model, and the study's findings here.
----------------------
Originally published by the UNC School of Education; written by Michael Hobbs.