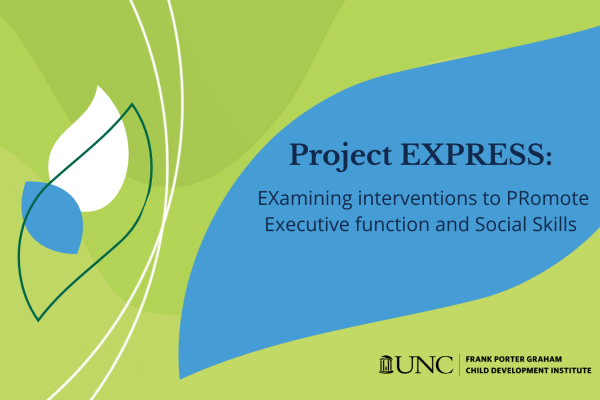 Project EXPRESS receives funding to evaluate two interventions working with adolescents on the autism spectrum
Funded with a grant of nearly $700K from the U.S. Department of Education, a team from the UNC Frank Porter Graham Child Development Institute (FPG) recently launched Project EXPRESS: EXamining interventions to PRomote Executive function and Social Skills.
Jessica Steinbrenner, PhD, CCC-SLP, an FPG advanced research scientist, is the principal investigator on this five-year study evaluating two treatment programs working with adolescents on the autism spectrum. The two interventions―Program for Education and Enrichment of Relational Skills (PEERS), which addresses social skills, and Unstuck and On Target (UOT), which targets executive function skills—are being implemented by middle school staff in schools in North Carolina and the San Diego area of California.
"We are excited to continue our partnership with San Diego State University which, like UNC, has a long history of doing autism research," says Steinbrenner. "We all have a passion for providing high-quality professional development for exceptional students and special education departments in public school systems." She cites the importance of the racial, ethnic and socio-economic diversity that exists in the student population in the study's schools.
Those schools include 26 that will receive the PEERS intervention, another 26 with the UOT intervention, and the control group of 26 schools, which will receive its usual autism-related services. "An important element about this study is that the interventions are being offered in school settings, which is where many kids with autism receive services," says Steinbrenner. "Schools are a universally accessible location for programs like this but haven't been widely studied."
She notes that a unique element of Project EXPRESS is that the researchers are studying two programs—one addressing social skills and the other, executive functioning—which will help us understand how each program impacts different core needs of students on the spectrum and compare the impact of each program to typical services in the schools.
The social skills intervention, which focuses on peer relationships, is critical during middle school when adolescents' peer relationships shift to being more outside the purview of adults. "This is a time period when peer relationships start to change for students and that change can be difficult for kids with autism," says Steinbrenner. Similarly, the executive functioning study is timely during middle school as students get less support from teachers, switch classes during the school day, and need to do more planning on their own.
"We hope that we will be positively impacting these students," says Steinbrenner. "We also hope that this study will provide information about how we can move forward in public schools more broadly."
In addition to Steinbrenner, the Project EXPRESS study team includes Co-PIs Sam Odom, PhD, Ann Sam, PhD, of FPG, and Laura Hall, PhD, Bonnie Kraemer, PhD, and Kelsey Dickson, PhD, of SDSU.