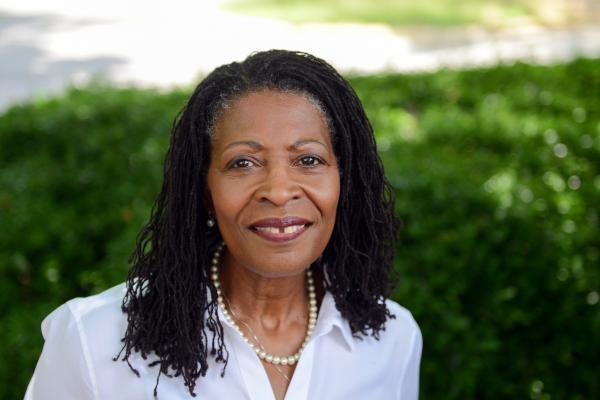 Q&A With Betsy Ayankoya, MEd
Betsy Ayankoya, MEd, is a senior technical assistance specialist, an associate director of the Early Childhood Technical Assistance (ECTA) Center, and the equity, diversity, and inclusion officer for the UNC Frank Porter Graham Child Development Institute (FPG). Ayankoya came to FPG in 1992 after many years at the American Speech-Language-Hearing Association (ASHA) and was part of the FPG RACE Committee that received the University Diversity Award for Intergroup Collaboration in 2018. She became FPG's first Equity, Diversity, and Inclusion Officer in September 2018.
How did the Equity, Diversity, and Inclusion (EDI) Office at FPG come about?
When FPG was in the process of developing the new strategic plan, our values surrounding culture and diversity kept coming up in our analysis. These are real values that FPG had long held and wanted to continue to hold. One of the emphasis areas ended up being culture, and the first piece under that was to develop internal structure to support that work.
There had been a RACE Committee in place for a number of years, and we have a lot of individuals who have interests in race, ethnicity, and language, because a lot of our projects focus on those areas. That committee was a volunteer effort, and it was successful because so many at FPG put their time, energy, and hearts into that work. For some time, we'd also offered lunchtime webinars to encourage individuals to expand their knowledge and understanding around equity and diversity, as well as funding for staff training to increase knowledge around those areas.
But, it wasn't anyone's dedicated job to work on this, so Ayse Belger, FPG's Director, approached me to lead the new EDI Office because I'd been the RACE Committee co-chair and have a lot of experience with diversity initiatives in my career at FPG, including working with two colleagues to develop a national model demonstration project for the U.S. Department of Education. And, I don't do it alone—I have lots of colleagues I collaborate with as we do this work.
What are the functions of your role as the EDI Officer?
My job is to shepherd the activities in the strategic plan related to equity, diversity, and inclusion, as well initiatives related to culture and belonging in the workplace. The plan identified a need for a broader pipeline to introduce underrepresented individuals to some of the work we have at FPG around technical assistance, research, and policy. One of my roles is collaborating with HBCUs (Historically Black Colleges and Universities) in the state to make that happen. In North Carolina, we have the second highest number of HBCUs in the country. This summer, we successfully launched our Marvin H. McKinney Scholars Program in Research, Practice, and Policy, in conjunction with other summer undergraduate pipeline programs at UNC. It ended up being virtual due to the pandemic, but we had two wonderful students to bring into the work we do at FPG, and we hope they'll see themselves in similar roles in the future. Our FPG mentors all volunteered their time, with plates already full, but they put their hearts into supporting these students during the pandemic. And, with Marvin McKinney, our longtime collaborator and Executive Leadership Board member, it couldn't be named for anyone better.
Another area we're focused on that was identified in the strategic plan is climate. Some of the first things that were part of my work after I became the EDI Officer were a continuation of our work around belonging in the workplace, which started in 2018 when we participated in the UNC Diversity THINKPosium. We're continuing to have conversations within the FPG community about what it means to belong in the workplace, what a welcoming culture looks like, and what we need to do as individuals, as projects, and as an organization, to make the environment a welcoming place where everyone sees a home in it.
What do culture and belonging mean to FPG?
A lot of times when we think about culture, we think about individuals and ethnic groups. But places have a culture—how you function, how you communicate, what your environment looks like for all. We're a part of the University, which is a culture. And our projects have their own cultures. But we're trying to create a welcoming culture as an organization. We seek to have an open culture with our FPG community-wide meetings, and we want everyone to get to know each other and to feel like their ideas are welcome. You can bring your full self to FPG, and you don't have to change who you are in order to fit in. Whatever your identities are, you don't have to leave part of yourself at home.
Culture and equity have been on my mind since I was a child. Growing up in Raleigh, we had a family member who worked for the Governor Morehead School, North Carolina's school for the blind, and she would bring a student home with her on the weekend because she lived far away. I learned that you could communicate without speaking, and a friend and I learned the American Sign Language alphabet to finger spell to one another. I became interested in communication and languages, and I also married a man from Nigeria and lived there for four-and-a-half years. It's been fascinating to see how people live, and how we're all connected, though sometimes we don't know it and we don't act like it. We get into a lot of trouble when we're always trying to create an "other." But there is no them—it's we and us. We are still us, even if we're different.
Why is doing this work as an Institute so important to the mission?
Our mission is to advance the lives of children. So, we think about the work we do and who it impacts. We know that when people like their jobs, when they enjoy what they do, they're better at it, and it's going to show up externally. We see this in schools—if the principal loves their job, they'll treat the teachers well, and they'll be happier, and they'll treat the students that way, too. I'm a technical assistance specialist, so I'll talk about that. We work with all the states and territories from birth to 5. We're so many steps back from the children, but we work with the administrators, the ones who make policy and who impact the systems they lead. So, all of us are thinking, ultimately, about the kids and the families. We need to be doing work that supports them, that is inclusive, instead of introducing barriers. Doing this EDI work allows us to examine the decisions we are making within our projects and examine how equity is part of the work we're doing. When you're making decisions, have you considered the real needs of those you're serving? Have you considered their perspectives and what works for them and why? Are we just working from a theoretical place, or are we including stakeholders on these projects that have direct experiences with these groups? As individuals, we also need an equity framework, so we bring that to our projects.
How has FPG's previous work helped meet the current conversations around social and racial justice?
Because FPG started having this conversation years ago, when we hit 2020, with the deaths of Ahmaud Arbery, George Floyd, Breonna Taylor, and others, we were already in the position to have hard conversations. There are other layers to add, and we still have growth ahead of us. We have work to do. But FPG invested in this, with a strategy, a structure, and a budget. We've been thinking about this a long time, and some organizations are just starting. We're poised to really move forward. A member of our Executive Leadership Board recently said that, at FPG, we really have the potential to make an impact on so many lives through our work, and we're going to make things better for children and families. This doesn't mean it won't be hard and we don't have a lot of work to do. But I see us putting in the work and staying the course. Wanting to do this well, and recognizing that, is the first step.
What are you excited about for the future of the EDI office?
I'm excited about expanding the McKinney Scholars Program, and right now we're planning on doubling our students to have four in 2021. We're also starting to look at developing a program that might be a year-long opportunity for a student from an HBCU. We will also create an official equity plan for FPG that looks at all the work and how equity should be infused into every piece. We'll be taking stock of where are we now, how it meshes with the strategic plan, and how equity fits in, identifying initiatives that look across our Institute and can be put into place. We want to make real progress, and we already have.